World news story
British company awarded molecule patent
British company Inmolecule Ltd awarded Nbelyax a patent for a new nano-bio-particle.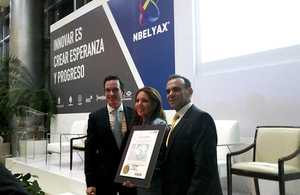 In July 2016, the British company Inmolecule International was awarded a patent for the Nbelyax molecule. This new nano-bio-particle will be able to eliminate pathogens in antiseptics, sanitizers and agricultural products as well as help to prevent the spread of diseases in men, livestock and crops. Inmolecule international also received special recognition for outstanding performance in science innovation.
During the event Gabriela León, CEO of Inmolecule International, stated that "after years of research they have developed a high-tech solution that will solve common sanitization problems and will be an ally to biosafety with an ethical stance that seeks to safeguard human health and the environment."
Gabriela Leon Guiterrez has been a very useful spokesperson in the promotion of the UK as an investment destination among the business community in Mexico. She has also been keen to share the company's experience of setting up in the UK.
Present at the event were: Duncan Taylor, UK Ambassador to Mexico; Geoffrey Fichte, Executive Director of Corporate Banking of HSBC Mexico, Miguel Angel Margain Gonzalez, General Director of the Intellectual Property National Institute (IMPI) and Rafael Navarro, Director of the Institute for Social Security and Services for Workers of the State (ISSSTE).
About Inmolecule Ltd and Nbelyax molecule
Nbeylax molecule, a nano-bio-molecule germicide with applications in healthcare, agriculture and food industries, was developed by Gresmex, a Mexican nanotechnology company. This now British technology is to be licensed in a further 139 countries.
In 2015 Gresmex registered the company Inmolecule Ltd in the UK to operate as the Global HQ and to own Intellectual property. This strategic move allowed them take advantage of the attractive grants and incentives offered by the UK in R&D. They received the GREAT Investors Award in October 2015, as part of the Dual Year activities.
Published 2 September 2016