World news story
British companies exploring business opportunities in healthcare in Peru
This was published under the 2010 to 2015 Conservative and Liberal Democrat coalition government
The roadshow showcased an investment pipeline worth £1.7bn for 2014-2016 – mainly through Public-Private Partnerships (PPPs).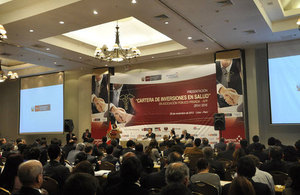 On November 26 UK companies ARUP, Currie & Brown and GE Healthcare took part in the health roadshow organised by the Ministry of Health and the National Assembly of Regional Governments in Lima, Peru. The roadshow showcased an investment pipeline worth £1.7bn for 2014-2016 – mainly through Public-Private Partnerships (PPPs). This event was the first of its kind in Peru and attracted over 400 representatives from local and foreign companies.
UKTI and Prosperity teams in Lima facilitated the participation of the UK companies and prepared a tailored visit programme for them securing high-level access to senior government contacts, project decision makers and potential business partners. Phil Dowrick, UKTI specialist in the healthcare sector, also joined the UK delegation.
According to the Lima Chamber of Commerce, demand for health services in Peru have grown significantly in recent years with private health services seeing 12% growth annually. But infrastructure developments are not keeping pace with this increasing demand. The government has the political will to increase efficiency in the provision of services using PPPs, an area in which the UK is well recognized for its capabilities and expertise. There are plans to construct ten new hospitals and more than 700 strategic facilities in the country, as part of a national reform that aims to improve patient access to health services.
Government capability in project financing is crucial for the next generation of hospitals in Peru. The Peruvian health sector is in the early stage of implementing a PPP programme and is looking to the UK model, where medical services remain public but hospital construction, administration and non-medical services are delivered through contracts with the private sector.
The Health Ministry has identified a number of initial PPP projects, most notably the development of a blood bank registry and a hospital waste management service in the city of Lima and Callao (both to be launched in 2014). Regional governments also have ambitious projects. For instance, the Municipality of Lima is seeking to replace their containerised hospital network with permanent hospital constructions on recently acquired land. It is likely they will build these new hospitals using PPPs. There are also opportunities for DBOT (Design-Build-Operate-Transfer) contracts for new hospitals adjacent to existing hospitals, such as the Hospital Dos de Mayo and Hospital Sergio Bernales.
Other specific health opportunities, not necessarily under the PPP framework, also deserve attention. The city of Lima is looking to implement an electronic patient record and informatics capability across the city. There are long-term management contract opportunities for the Children's Hospital in Lima and for three existing hospitals in Piura, among many others across the country.
Following the health authorities decision to accept private initiatives for upcoming projects, the government will require assistance to assess new proposals. This represents a significant opportunity to provide advisory services on the packaging of hospital projects for investor consideration (at both the national and subnational government levels), and on the structuring of PPP models for individuals hospitals.
For more information, contact Carlos Chau, Deputy Director UK Trade & Investment in Lima.
Document information
Published: 6 January 2014