World news story
British Clipper Yachts to compete in Sydney to Hobart
All 12 Clipper Yachts will compete in Australia's famous yacht race, starting in Sydney on Boxing Day, including the GREAT Britain yacht.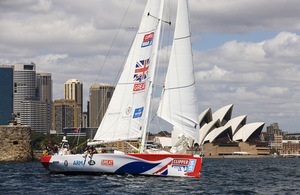 The Sydney to Hobart Yacht race will this year be hosting all 12 of the identical 70-foot yachts currently competing in the Clipper Round the World Yacht Race – the world's longest ocean race.
The Clipper yachts arrived in Sydney on the 13th and 14th December after completing a 2,000 mile journey from Albany in Western Australia, before that they crossed the great Southern Ocean in tumultuous seas from Capetown in South Africa. The crews are all enjoying some much needed rest and readying their vessels to compete in one of the world's great ocean races.
At a function hosted by the British Consulate General in Sydney on 17th December, Sir Robin Knox Johnston, who established the Clipper Race in 1996, said that although it wasn't realistic for the Clipper Fleet to be competitive in the race for line honours he did expect that one or more of the Fleet would be in the running for overall handicap honours. At the same event Simon Talbot, skipper of the GREAT Britain yacht, praised the performance of his crew throughout the race so far, saying that watching their progress from complete amateurs to very accomplished sailors had been one of the most satisfying things about the race.
The twelve identical 70-foot yachts in the Race are designed by renowned naval architect Tony Castro who runs his own British business based out of Southhampton. The yachts were built at a shipyard in Qingdao, China and are the world's biggest matched fleet of large ocean racing yachts.
Clipper Ventures is the company that runs the Race and is establishing a base in Sydney as the first stage of a global expansion plan. The Sydney office will provide training and corporate sailing events and will also be responsible for crew recruitment and the company's advertising and marketing, sponsorship and host-port development within Australia and the wider Asia-Pacific region.
The UK Marine Industries Alliance estimates that marine industries generate sales of £10 billion per year, including around £4 billion in exports. They contribute about £3.5 billion to GDP and employ more than 90,000 people.
Find out more about the Clipper Round the World Yacht Race.
View photos of the Clipper Yacht in Sydney.
Published 20 December 2013