World news story
British Climate Change Minister Visits Tanzania
British Environment Minister visits Tanzania looking at developments in the green energy sector.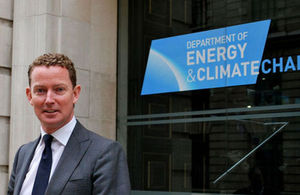 Greg Barker, British Minister of State at the Department of Energy & Climate Change (DECC), is visiting Tanzania from 14-15 April. This is his second visit to Tanzania in under two years.
The purpose of the minister's visit is to learn more about developments in the green energy sector in Tanzania. Renewable energy is one of four priority sectors in the UK/Tanzania Prosperity Partnership agreed in 2013 and the minister will highlight British renewable energy expertise. He will also discuss the international climate change negotiations (the UNFCCC (United Nations Framework Convention on Climate Change) on a global agreement on low carbon growth.
During his visit to Tanzania, Mr Barker will meet the Honorable Prime Minister, Mizengo Pinda, the Hon. Minister of State for the Environment, Dr Binilith Mahenge, the Deputy Minister for Finance and Parliamentarians active on climate change issues. He will hold a roundtable with a range of renewable energy companies and private sector investors and visit Singida where UK company Aldwych International Ltdwith its Tanzanian partner plans a US$ 285 million investment is a new 100MW wind farm. Mr Barker said:
"Last year, the world's leading climate scientists told the world that the Earth's climate is indisputably changing and that much of this is to do with man-made greenhouse gases. Tanzania, like many countries, is susceptible to the negative impacts of climate change which can negatively impact development. Urgent action around the world to lessen the significant risks posed by climate change is needed. Climate change is a global challenge that requires global action by governments, the private sector and citizens.
I am pleased that the UK is leading from the front. We have adopted some of the most ambitious climate change targets in the world. And we are investing in low carbon and energy efficient technologies both at home and internationally.
Tanzania is also taking important steps to increase domestic renewable energy generation from 4.9% to 14% in the next 3 years. The UK will do all it can to support these efforts".
In Tanzania, the UK is supporting the development of green mini grids to provide electricity in rural areas. We are helping catalyse private sector investment in renewable energy through the Africa Enterprise Challenge Fund (AECF) and Renewable Energy Adaptation Climate Technologies (REACT). This will result in an additional 220,000 rural households having access to environmentally-friendly and modern energy supply. During her visit last November, Justine Greening, UK Secretary of State for International Development, Justine Greening announced co-investments in projects totalling £20m (approximately US Dollars 30 million).
The UK has invited Tanzania to participate in a Clean Energy Finance Summit taking place in London in June. The conference will launch a new generation of financial instruments. This support aims to unlock investment and scale up private financial flows to climate projects in developing countries.
"In addition to supporting Tanzania's green energy sector, the UK will also work closely with Tanzania in the international climate negotiations to achieve a new global deal in 2015. This is critical to ensuring that average temperatures do not rise above 2 degrees higher than pre-industrial levels," Mr Barker said.
Background
UNFCCC: The United Nations Framework Convention on Climate Change is a new global deal that should be adopted in 2015. This is critical to ensuring that temperatures do not rise more than 2 degrees above pre-industrial levels.
Minister's visit to Singida: Mr Barker is visiting the site of the Wind East Africa wind power project in Singida to see for himself Tanzania's huge renewable energy potential. Wind East Africa, a joint venture between British company Aldwych International and its Tanzanian partner Six telecoms Company Ltd is developing a major wind power project in Singida to improve power supply to the north and north-west regions of Tanzania. The project, valued at US$285 million, will be the first wind farm in Tanzania. It will supply 100MW of reliable, low cost wind power to the Tanzanian national grid. This is equivalent to approximately 7% of the current installed electricity generating capacity in Tanzania.
There is currently no wind farm of this scale in operation in East Africa. This project will further cement the UK's reputation for expertise in developing large infrastructure projects in sub-Saharan Africa. In March the Tanzanian Ministry for Energy and Minerals signed a letter of support for construction of the 100MW Singida wind farm, led by Aldwych International. The letter confirms the project is on the priority list under the President's Big Results Now! initiative. The project received its Provisional Electricity License in December 2011. Aldwych will recoup the capital cost through tariff payments over the 20 year lifespan of the project.
Clean Energy Finance Summit: The UK will host this summit on 3-4 June, 2014. Tanzania has been invited to send representation at ministerial level to the summit, which is being co-hosted by His Royal Highness the Prince of Wales. It will bring together senior representatives from the City of London, and the wider financial community, with Finance and Energy Ministers from emerging economies. The focus will be how to catalyse more financing and practical implementation.
Participants will discuss specific examples of national regulatory and market reforms and incentives and low carbon 'investment ready' projects. There will be a focus on new financial instruments and mechanisms that the UK and others are supporting to scale up low carbon investment in emerging economies. The conference will feature an inaugural meeting of the 'Global Innovation Lab'- a new public-private partnership that will develop and launch the next generation of financial instruments and support aimed at unlocking investment and scaling up private finance flows in to climate projects in developing countries.
Published 14 April 2014