World news story
British Chamber of Commerce launched in Zambia
The British High Commissioner James Thornton last evening launched the British Chamber of Commerce in Lusaka. Mr Thornton said: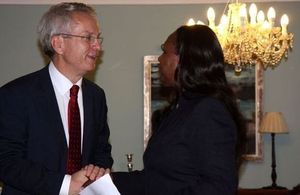 Hon. Margaret Mwanakatwe MP, Minister of Commerce Trade and Industry
Hon. Miles Sampa MP, Deputy Minister of Commerce Trade and Industry
Mr Siazongo D. Siakalenge, Permanent Secretary, Ministry of Mines Energy and Water Development
Senior officials from the Ministry of Commerce, Trade and Industry and from other Government ministries,
CEOs present
Members of the press
Distinguished guests, ladies and gentlemen
All protocols observed
Welcome to the British Residence. I am delighted that so many of you have been able to come.
I want to mention three things: what the British Government is doing to promote the private sector; the role of the Zambian government in that; and the role of the British Chamber of Commerce, that we are here to launch.
First, the British Government. We are very keen to promote UK-Zambia trade. Five months ago the British Government's trade and investment agency, UKTI, put an officer in the High Commission for the first time for many years. We held successful trade missions here in October and November last year.
I am very pleased that UK business interest in Zambia is growing. The Zambia Development Agency tells us that, for the last year for which it has data, more foreign investment in Zambia came from the UK than from any other country. And various more British companies hope to do business here in future.
And the programme run by our Department for International Development here in Zambia has an increasing focus on promoting economic growth.
For more information on what we are doing, follow the High Commission on social media. My Twitter account name is UKThornton, and the High Commission's Facebook account is UKinZambia and the Twitter account is UKinZambia.
Second, the Zambian government obviously has a key role in promoting trade and investment. They understand that. President Lungu, in his inauguration speech, appeared to be pinching my lines. He spoke about balancing the interests of Zambia with the interests of investors – that's one of the things I talk about! And he referred to the need for predictable, consistent policies – exactly what I hear from businesspeople such as yourselves.
I welcome the fact that, by various accounts, the President is now engaging directly with the mines. I hope that will lead to agreement on the best way forward for the industry. Such an agreement will be really important for the way that Zambia is perceived abroad as a place to invest.
And of course the President has appointed Mrs Mwanakatwe as his Commerce Minister. Honourable Minister, I am sure that you will be the voice of the private sector within the government.
Lastly, let me say something about the new British Chamber of Commerce. I am really excited about its launch. I think it can do great things. It will clearly act as a meeting place for likeminded businesspeople. I hope that it will also act as a catalyst for more trade between the UK and Zambia. I particularly hope that the Chamber will articulate what it is that business needs to thrive here, and establish an ongoing dialogue with the government on that.
I am sure that the Chamber will want to work closely with other trade bodies, including the American Chamber.
I expect to work closely with the Chamber. But it will be independent. To flourish it will need active support from businesses such as yours. I hope that you will be able to pay the subscription and join. I also hope you will offer the Chamber some of your time, energy and vision. You can help shape it so that it really responds to your needs and interests.
I would like to thank those who have already given so generously of their time, energy and vision to get the Chamber to where it is now. These include the interim board of the Chamber: its Chairman, Tim Ware of Knight Frank; Mark O'Donnell of Union Gold; Sixtus Mulenga of Musamu Resources Limited; and Daniel Rea of Grindrod Rail; Others include Andrew Okai and Christine Matambo from Standard Chartered. I am also deeply grateful to John Paton, the Chamber's Chief Executive, who has been working unpaid for the organisation since last September.
Published 20 February 2015