World news story
British Chamber of Commerce and UKTI make an award-winning partnership in Italy
Award for Excellence in Trade Development recognises BCCI's work and the value of relationship with UKTI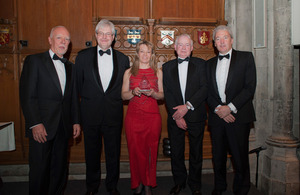 The British Chamber of Commerce for Italy (BCCI) has won this year's COBCOE Award for Excellence in Trade Development 2013.
COBCOE (Council of British Chambers of Commerce in Europe) gave the award in recognition of BCCI's: >excellent wide-reaching projects of trade promotion and proactive engagement and cooperation with partners; a leading example of a real local commitment to working with UK Trade & Investment (UKTI) to ensure increased trade development between the UK and Italy.
The award reflects the excellent cooperation between the BCCI and UKTI in Italy which enables both organisations to best serve the development of British companies in Italy and to offer assistance to Italian companies wanting to grow in the UK.
In the last six months alone, the partnership has led to three successful projects including:
Fancy a Cup of Coffee – a series of trade seminars organized by UKTI on doing business in Italy

Export Insight – a programme of visits aimed at introducing small businesses to the principles of international trade

Women in Business - Creating a bridge between the UK and the Apulia Region" – a jointly run seminar for British and Italian women entrepreneurs to share best practice and promote new collaborations
Director of UKTI Italy, Vic Annells said:
To have the opportunity to work with an excellent Chamber is certainly something I am grateful for. The team are very supportive of our joint activity but also the wider membership itself clearly welcomes the very close working relationship that exists between UKTI and The BCCI in Italy. This recognition through the award for Trade Development is the result of a carefully executed strategy from UKTI to work far closer with key multiplier organizations such as Chambers.
John Law President of The British Chamber of Commerce for Italy said:
I am delighted to have received this award which reflects the excellent relationship which UKTI and the BCCI have developed. This is fundamental to our shared objectives of growth and of encouraging trade and exchange between Italy and the UK. The award was presented by Lord Green, Minister of State for Trade and Investment, who said it was "great to see the British Chamber of Commerce in Italy working so well with our team in UKTI."
For further information about how UKTI or the British Chamber of Commerce could help your business please contact:
Contacts
UK Trade & Investment
British Consulate-General
Via San Paolo 7 – 20121 Milan

Twitter: @UKTIITALIA and @UKTIITALY
LinkedIn: UKTI-italy
UKTI Press Office
Raffaella Previtera
Head of Communications Team
Tel. +39 02 72300 253/251/249

Email: communicationsmilan@fco.gov.uk
Elsa Einarsdóttir
Deputy Director UKTI
Tel + 39 02 72 300244

Email: milancommercialenquiries@fco.gov.uk
British Chamber of Commerce
Simona Frignani
Secretary General and Chief Executive
Tel + 39 02 877798

Email: s.frignani@britchamitaly.com BCCI website
Notes to editors
UKTI is the Government Department that helps UK-based companies succeed in the global economy. We also help overseas companies bring their high-quality investment to the UK's dynamic economy acknowledged as Europe's best place from which to succeed in global business.
UK Trade & Investment offers expertise and contacts through its extensive network of specialists in the UK, and in British embassies and other diplomatic offices around the world. We provide companies with the tools they require to be competitive on the world stage.
For further information please visit UKTI website
Published 19 April 2013