Press release
British Cabinet Minister to lead a business delegation to Kerala
The Rt. Hon. Eric Pickles MP, British Cabinet Minister for Communities and Local Government will lead a UK business delegation to Kochi from 4 to 5 June 2013.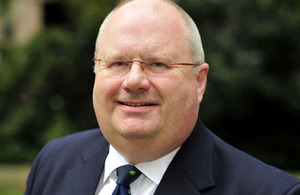 The UK delegation will explore partnerships in the built environment, infrastructure, construction and water sectors. Mr Pickles will explore with the Kerala Government, UK participation in Kerala's ambition for improved urban development.
In Kochi, Mr Pickles will meet the Hon'ble Chief Minister Oommen Chandy and senior representatives from the Kerala Government. He will deliver a speech at a business seminar hosted by the Indian Green Building Congress (ICGBC) and the Confederation of Indian Industry (CII) to encourage stronger Indo-UK partnership in the infrastructure sector. He will attend events to support the low-carbon development pathway at municipal and local government level.
Ahead of his visit to Kochi, Mr Pickles said:
It is a privilege to lead a British business delegation to India. India is one of the biggest emerging markets in the world and we can be India's partner of choice. We both agree success will hinge on our ability to put in place the right infrastructure and we are well placed to help India with their plans. The companies I will be introducing represent the best of British. They not only have world class expertise in big construction projects and urban renewal, but they know how to bring economic growth to different parts of a country.
Mr Pickles added:
As an advocate of localism I am delighted to be visiting Kerala, which is globally renowned as a pioneer in successful local self-government. I look forward to sharing the UK experience of local government and to learning about the successes in Kerala. The business delegation accompanying me have a wealth of expertise to offer Kerala's ambition to expand and strengthen local infrastructure in ports, airports, roads, bridges, highways. I hope UK and Indian firms can work in partnership with the Kerala government and the private sector on many of the major ongoing and proposed projects.
Mr Mike Nithavrianakis, British Deputy High Commissioner, Chennai said:
We are delighted that Mr Pickles will lead a UK delegation to Kochi to strengthen our partnership with Kerala. The range of UK business engagement in Kerala is growing. Some are already in ICT, food/drink, education and training and project management. We hope that the visit next week will see a presence of more UK firms in the crucial infrastructure sector.
Further Information
Published 3 June 2013