Press release
British Cabinet Minister to lead a business delegation to India
The Rt. Hon. Eric Pickles MP, British Cabinet Minister for Communities and Local Government, will lead a UK business delegation to India from 2 to 7 June 2013.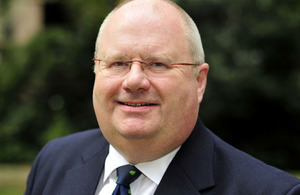 The accompanying delegation will explore partnerships in the built environment, infrastructure, construction and water sectors.
Ahead of his visit, Mr Pickles said:
It is a privilege to lead a British business delegation to India. India is one of the biggest emerging markets in the world and we can be India's partner of choice. We both agree success will hinge on our ability to put in place the right infrastructure and we are well placed to help India with their plans.

The companies I will be introducing represent the best of British. They not only have world class expertise in big construction projects and urban renewal, but they know how to bring economic growth to different parts of a country.
In Kolkata, Mr. Pickles will meet the state Finance Minister Dr Amit Mitra and Minister of Urban Development Mr Firhad Hakim. He will also address the inaugural session of the seminar on UK Built Environment Expertise.
In Kochi, Mr Pickles will meet the Hon'ble Chief Minister Oommen Chandy and senior representatives from the Kerala Government. He will deliver a speech at a business seminar hosted by the Indian Green Building Congress (ICGBC) and the Confederation of Indian Industry (CII) to encourage stronger Indo-UK partnership in the infrastructure sector. He will attend events to support the low-carbon development pathway at municipal and local government level.
The Rt. Hon. Eric Pickles MP, British Cabinet Minister for Communities and Local Government is the Conservative MP for Brentwood and Ongar. His Ministerial responsibilities include offering strategic direction to key Department work – supporting local government, communities and neighbourhoods, local economic growth, housing, planning and building. His work includes making local councils more transparent and accountable, housing for older and vulnerable populations, improving energy efficiency of buildings and ensuring that new and altered buildings are safe, accessible and efficient. His political career includes positions as Chairman of the Conservative Party (2009-10), Shadow Minister for Communities and Local Government (2007-09) and Leader of Bradford City Council (1988-90). Earlier he worked as an Employment Consultant and as Local Government Editor for Conservative Newsline.

Delegation Brochure - Part 1 (PDF, 1.21MB, 15 pages) Delegation Brochure - Part 2 (PDF, 1.84MB, 17 pages) Built Environment Mission to Kochi (brochure for Kerala) (PDF, 2.51MB, 22 pages)

See our Storify page for full coverage of the visit

For media queries, please contact:
In Kolkata: Mainak De, British Deputy High Commission, Kolkata; Mob: +91 9830070623
In Kochi: Anita Mawdsley, British Deputy High Commission, Chennai; Mob: +91-9600199956
Marcus Winsley, Director, Press and Communications, British High Commission, Chanakyapuri, New Delhi 110021, Tel: 44192100; Fax: 24192411,
Published 30 May 2013