World news story
British Cabinet Minister visits Kolkata to explore partnerships in built environment
The Rt. Hon. Eric Pickles MP, British Cabinet Minister for Communities and Local Government, is leading a 20-member UK business delegation to India.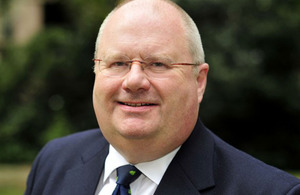 Mr Pickles visited Kolkata on 3 June. The accompanying delegation with Mr Pickles were in Kolkata to explore partnerships in the built environment, infrastructure, construction and water sectors.
In Kolkata, Mr. Pickles met the state Finance Minister Dr Amit Mitra and Minister of Urban Development Mr Firhad Hakim. He addressed the inaugural session of the seminar on UK Built Environment Expertise. Mr Pickles showcased British expertise in this sector and highlighted the huge business potential for Indo-British collaboration in this area. The inaugural session was followed by sector-specific business to business workshops.
Mr Pickles also visited the International Institute of Hotel Management which, apart from being a management school, also promotes culinary art as a sustainable vocation. IIHM has been hosting The Young Chef Competition. Mr. Pickles toured the IIHM complex in Salt Lake and talked to young chefs who are looking at a career in promoting Indian cuisine around the world. He also tasted some of the young chefs' creations. Mr. Pickles has been promoting Indian cuisine in the UK. Mr Pickles also tasted a range of Indian delicacies ranging from the best of Bengali cuisine to Gujarati specialities.
Mr. Pickles also visited a community development project in Nadial which engages with young people in the community through sports - Goalz. The project, managed by Premier League, the British Council and Kolkata Police, works with local football clubs for training the youth and uses football as a tool to help develop both community coaching and English language skills. The programme trains aspiring sports coaches and youth leaders to return to their own communities and enhance their existing football sessions, whilst also developing their leadership skills and a greater understanding of the role football can play in tackling other social issues.
Further information
Published 4 June 2013