Press release
British Cabinet Minister and Prime Minister's Trade Envoy in Chennai this week
Rt. Hon. Kenneth Clarke will lead a large UK health business delegation to Chennai this week.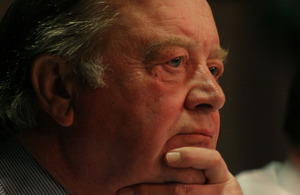 British Cabinet Minister and the Prime Minister's Trade Envoy, The Rt. Hon. Kenneth Clarke will lead a large UK health business delegation to Chennai this week. On 8 May, Mr Clarke expects to call on the Hon'ble Chief Minister of Tamil Nadu, the Health Minister and Health Secretary to demonstrate the UK's commitment to a stronger, deeper, wider healthcare partnership with Tamil Nadu. On 9 May he will deliver a speech at a conference hosted by the Confederation of Indian Industry (CII) on 'Indo-UK Collaboration in Healthcare'. He will inaugurate the Haemato-Oncology and Bone Marrow Transplant Unit at MIOT Hospitals, which involves a new technology partnership with the UK's Whittington Hospital. He will also visit Apollo Hospitals which has strong and developing links with the UK.
The 26-member UK health business delegation includes a range of universities, hospitals and private companies with interest and expertise across sectors - primary care, healthcare management and solutions, family medicine services, ICT, medical equipment, medical education, hospital design and construction, consultancy and research and training.
Mr Clarke said: "Many people say that the National Health Service is the closest thing the British have to a religion. But what they don't know is that our NHS was only actually built with the help of Indian doctors, and continues to rely on them. Now some of the most exciting British companies are being drawn to India to return the favour in kind. As a result of the NHS, people in Britain have amongst the fastest access to GPs in the world, the best coordinated care, and they suffer from the fewest medical errors. Britain is quite simply a world leader in organising and administering first class medical care. The companies I am taking with me on my visit want to bring all this expertise to India. The historic partnership between Indian and British doctors has already saved millions of lives in Britain. On our visit we will be meeting with senior ministers and officials, and visiting hospitals and clinics, to work out how together we can save millions more.
Mr Mike Nithavrianakis, British Deputy High Commissioner, Chennai said: "I am delighted to welcome such a senior Minister as Mr Clarke to Chennai. We see enormous potential for Tamil Nadu and the UK to work together in healthcare. The Indo-British Healthcare Initiative (IBHI), established a year ago, will host an Indo-UK Oncology Summit in Chennai in September this year. This follows the hugely successful Indo-UK Diabetes Summit and visit by Ms Soubry, UK Minister for Public Health."
The UK health business delegation includes senior representatives from Healthcare UK, A4e, Brit Health Care, Serco Health, BMJ Group, BT Health, London Ambulance Service, Royal Free Hospital, 3DiFM, Sheffield Hallam University, PCTI, Run Healthcare, TPP, Hurley Group, Downtown Engineering Consultants, DMC Healthcare and Boomerang Consultancy.
Further information
UKTI Trade Mission to India - brochure (PDF, 3.65MB, 24 pages)

Collaboration in Healthcare - Indo-UK Conference (MS Word Document, 60KB)

The Rt. Hon. Kenneth Clarke QC MP, British Cabinet Minister and Prime Minister's Trade Envoy is the Conservative MP for Rushcliffe. He previously served as Lord Chancellor and Secretary of State for Justice since 12 May 2010. Earlier positions include: Secretary of State for Health 1988 to 1990, Secretary of State for Education and Science 1990 to 1992, Home Secretary 1992 to 1993, Chancellor of the Exchequer 1993 to 1997. In opposition, he served as Shadow Secretary of State for Business, Innovation and Skills.

More about Kenneth Clarke's visit on Storify

Media queries: Contact R Fernandez, Head (South India), Press & Public Affairs, British Deputy High Commission, Chennai. Mob: +91-98403-40282
Published 6 May 2013