News story
British businesses receive royal award
Over 150 Queen's Awards for Enterprise 2011 have been awarded to businesses from across the UK.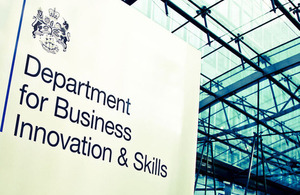 A special event at Buckingham Palace was held to recognise British entrepreneurs who received the Queen's Awards for Enterprise.
They are the UK's most prestigious business awards. Bestowed each year by Her Majesty The Queen they recognise businesses that are outstanding in their field.
Before the reception at the palace, Business Secretary Vince Cable presented the winners of the Queen's Award for Enterprise Promotion.
This category rewards people who have played an outstanding and significant role in promoting the growth of business enterprise and entrepreneurial skills and attitudes in others - for example amongst young people or those in disadvantaged groups.
The Government wants to promote a culture of enterprise and entrepreneurship, to make sure Britain's businesses are able to drive forward the economic recovery.
View the full list of winners for 2011
This year's winners were given an engraved chalice, and the award is formally conferred with a royal "Grant of Appointment," which owners can use to boost their marketing efforts.
Business Secretary Vince Cable said:
"It's wonderful to see that even with a difficult economic climate, individuals continue to find enterprising ways of working and helping others to establish their businesses.
"The people receiving awards today are an inspiration and I congratulate them on their hard work and their achievement. The opportunity for them to join the business winners and to go to the Palace to celebrate their hard work is well deserved and I hope they have a wonderful time.
"It's important we create the right conditions for Britain's new and up- and-coming entrepreneurs to succeed and I strongly encourage businesses to start thinking about nominations for next year."
Queen's Awards for Enterprise
The Queen's Award for Enterprise Promotion is one of four awards under the umbrella title of The Queen's Awards for Enterprise.
There are three awards for outstanding achievement by businesses in the categories of Innovation, International Trade and Sustainable Development.
To be able to apply for any of The Queen's Awards categories, businesses must:
Be based in the UK - Including the Channel Islands and the Isle of Man.
Operate as a business unit of the UK economy.
Have at least two full-time employees or part-time equivalents.
Be able to demonstrate commercial success
The application and nomination period for The Queen's Awards for Enterprise 2012 is now open and closes on October 31. Entry is free and forms can be completed and submitted online. Winners will be announced on April 21 2012.
Links
Published 15 July 2011