World news story
British business delegation visit to Krasnodar region
From:

Part of:

Published:

29 March 2017
A British business delegation led by Ambassador Laurie Bristow spent several busy days in Krasnodar region.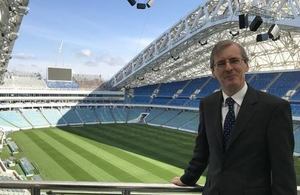 32 British companies, including providers of educational, engineering and legal services, as well as those working in the sports, agricultural and infrastructure sectors, joined the delegation to Krasnodar and Sochi.
During the visit the delegation held meetings with Veniamin Kondratyev, the Governor of Krasnodar region, Sergei Altukhov, the Vice-Governor and regional ministries. The delegation visited a number of potential cooperation partners, including the headquarters of "Magnit" - one of the largest retailers in Russia which is listed on the London Stock Exchange - the Kuban agrarian holding and Basel Aero where they heard about the company's development plans.
One of the focuses of the mission was on cooperation with educational institutions, forming part of the UK-Russia Year of Science and Education 2017 programme of activities. The delegation visited Sirius, one of the most innovative Russia's educational centres, the Russian International Olympic University and the Academy of Oil and Gas Engineering.
As part of the mission's engagement with the next generation of Russians, the Ambassador met with students of the Kuban State University where they discussed a number of topics including the benefits of study in the UK. In addition, a one-day interactive seminar on economics was also held at the University.
Members of the delegations attended the regional final of Page 17/ Страница 17 reading aloud championship for high school students where the participants made a special emphasis on British non-fiction.
Cooperation with the Russian partners in the lead up to and during the 2018 FIFA World Cup is a key priority for the British Embassy. Therefore, the delegation visited Krasnodar Stadium, where preparations for the tournament and safety of British fans were discussed.
The business programme culminated in networking reception, aimed to strengthening ties between the Great Britain and Krasnodar region.
The second part of the visit took place in Sochi. The delegation met with the administration of Sochi to discuss possible partnerships, including in major sports events and through the development of bilateral business ties. The delegation met with the local 2018 FIFA World Cup Organizing Committee and visited Fisht Stadium, which will host matches of the most popular sport in the world.
The mission also visited Sochi Autodrom, where the Russian Formula One Grand Prix is held as Britain is one of motorsport's leaders in engineering and technical support. And indeed the British three time Formula 1 World Champion Lewis Hamilton, has twice won the Sochi Grand Prix.
On the last day of the visit, the delegation visited Krasnaya Polyana for an overview of the resort's infrastructure.