News story
British Business Club gears up for unique networking opportunity at 2012 Games
With over 4,000 businesses already signed up, the British Business Club will be at the heart of this, providing a free online business guide…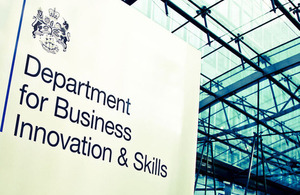 With over 4,000 businesses already signed up, the British Business Club will be at the heart of this, providing a free online business guide to the Games for those wanting to make the most of this opportunity.
The British Business Club is a unique online network, created by UK Trade & Investment, London & Partners, the London Business Network, and the Department for Business, Innovation & Skills, to enable businesses to connect with business partners across the world, arrange one-to-one meetings, find the go-to business events across the UK and promote their business capability & skills.
The British Business Club enables companies of all sizes to network free of charge with thousands of other businesses to showcase their expertise and know-how by creating an online profile. The website - www.britishbusinessclub.org - will also provide access to one-to-one meetings, networking events and free temporary membership of the Institute of Directors in London for the duration of the Games to encourage and build upon business connections in the UK and overseas.
Furthermore, a one-to-one marketing tool will be launched at the start of next week to coincide with the start of the arrival of country delegations to London.
President of the British Business Club, Sir John Armitt, said:
"The British Business Club offers a unique networking tool for UK businesses to capitalise on their involvement in the Olympic Games, particularly in terms of securing work on other major sports events - a fast-growing sector that is creating many new opportunities. British companies, big and small, now have precious experience that they can use to win business at home and abroad. They are already doing so in Sochi, host city of the next Winter Olympic Games, and Brazil, where the next football World Cup and summer Olympic Games will be staged."
Minister for Trade and Investment, Lord Green, said:
"The 2012 Olympic and Paralympic Games are a once-in-a-lifetime opportunity to showcase all that is great about Britain and British businesses to the world. Through the British Business Club, UK companies can use the excitement generated by the world's greatest sporting festival to seek out new clients across the globe. It's a key part of our plan to make sure we realise a business legacy for companies up and down our country from these Games."
Mayor of London, Boris Johnson, said:
"The eyes of the world are on London this summer and I am determined to ensure we grasp the golden opportunities this presents. We are pleased to host British Business Club members as part of our ambitious plans to bang the drum for London, showing why this city is the pre-eminent global business destination."
**Notes to editors
**1. The British Business Club is a valuable resource available to help members make the most of business networking and activity around the London 2012 Olympic and Paralympic Games and other major sports events now and in the future.
The British Business Club is a free online resource providing up-to-date details of networking events, business activity, news and potential partners, boosting the opportunities for UK companies to make beneficial international business connections.
Members are able to showcase their business capability, expertise and know-how by creating an online profile, allowing them to build their networks and connect with business partners worldwide, increasing their opportunity to meet and engage with potential business partners during the exciting atmosphere of a major sports event itself.
Members are also able to promote relevant business events as well as benefit from exclusive offers, including London hotel discounts.
The British Business Club is a partnership between UK Trade & Investment, London & Partners, the London Business Network and BIS, on behalf of the UK-wide London 2012 Business network.
For more information and to join for free, visit: www.britishbusinessclub.org Twitter: @britbizclub
To create the most competitive tax system in the G20

To make the UK the best place in Europe to start, finance and grow a business

To encourage investment and exports as a route to a more balanced economy

To create a more educated workforce that is the most flexible in Europe.
Work is underway across Government to achieve these ambitions, including progress on more than 250 measures as part of the Growth Review. Developing an Industrial Strategy gives new impetus to this work by providing businesses, investors and the public with more clarity about the long-term direction in which the Government wants the economy to travel.
UK Trade & Investment (UKTI) is the Government Department that helps UK-based companies succeed in the global economy. We also help overseas companies bring their high quality investment to the UK's economy - acknowledged as Europe's best place from which to succeed in global business. UKTI offers expertise and contacts through its extensive network of specialists in the UK, and in British embassies and other diplomatic offices around the world. We provide companies with the tools they require to be competitive on the world stage. For more information on UKTI, visit www.ukti.gov.uk or visit the online newsroom at www.ukti.gov.uk/media.
Notes to Editors
Contact Information
Name BIS Press Office Job Title
Division Department for Business, Innovation & Skills Phone
Fax
Mobile
Email bispress.releases@bis.gsi.gov.uk
Name Michael Gibbs Job Title
Division Department for Business, Innovation and Skills Phone 020 7215 1635 Fax
Mobile
Published 12 July 2012