World news story
British Business Centre in Pakistan signs MoU with SEED Ventures
MOU signed between British Business Centre and SEED Ventures for development of entrepreneurial landscape between Pakistan and the UK.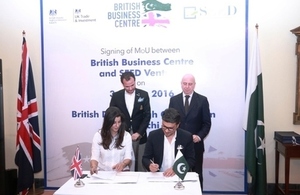 A new Memorandum of Understanding (MoU) was signed on 3rd May 2016 between the British Business Centre and SEED Ventures.
SEED Ventures is an enterprise development organisation that works to promote and facilitate entrepreneurship, which will help promote trade, industry, investment and economic relations between the UK and Pakistan.
The 2 entities will work together to develop the enterprise and social enterprise landscape in the 2 countries through cross-border relations and initiatives.
John Tucknott MBE, British Deputy High Commissioner said:
The UK already enjoys a strong relationship with Pakistan in the key area of prosperity. The British Business Centre's goal is to contribute to an increase in bilateral trade and investment, in line with the commitments made by Prime Ministers David Cameron and Nawaz Sharif when they met in London in April 2014. We welcome the support that SEED Ventures is extending towards the Centre in order to help achieve this goal.
MoU agreement
According to the MoU, SEED Ventures and British Business Centre have agreed to work collaboratively as partners.
This will enhance, promote and support the entrepreneurial segment of Pakistan and the UK through cross-border enterprise development, local business solutions, and 360-degree business consultancies.
Working together they will create synergies with the:
development sector
private sector
locally operating UK organisations
Speaking at the ceremony as Chief Guest, Dr. Ishrat Husain - former Governor of State Bank of Pakistan said:
The bi-lateral trade and investment relationship between our 2 countries holds great significance for the Government of Pakistan. The UK Prime Minister – David Cameron has underlined the UK Government's full support for a democratic Pakistan and has offered assistance along the democratic path the Pakistani people have chosen.

We want this relationship to flourish in the coming years and we hope such initiatives continue to take place in order to build the relationship between our two countries. We already see a strong British trade and investment presence in Pakistan and with this agreement we hope more British businesses and investors will come and see firsthand the opportunities that Pakistan overall has to offer.
CEO and co-founder SEED Ventures, Faraz Khan during his speech said:
The entrepreneurial climate in Pakistan is changing, with a necessity to support and promote the rapidly emerging start-ups, SMEs and larger enterprises further scaling up.
He also commented that
the industries are unable to absorb the graduates that the country is producing and entrepreneurship must be introduced as an avenue all across various landscapes in Pakistan.
He further stressed upon the benefits of strong points of alignments between organisations working in this segment in the two countries and furthering the mandate of the 3 entities – British Business Centre and SEED Ventures. It will ensure an increase in cross-border trade relations, capacity enhancement, financial inclusion, and economic empowerment of all communities.
MoU signing ceremony
The MoU was signed by SEED Ventures' Chief Executive Officer and co-founder Faraz Khan, and British Business Centre's Chief Executive Officer Malahat Awan. It was witnessed by:
Dr Ishrat Hussain, former Governor State Bank of Pakistan and the country's prominent economist
John Tucknott MBE, British Deputy High Commissioner
Khusro Ansari SEED Ventures' Director and co-founder
prominent members of the business community
British Business Centre in Pakistan
The British Business Centre will offer access to a number of services to UK and Pakistani member companies including:
providing a base for visiting UK companies
market research
business opportunity promotion
event management
networking opportunities
bespoke professional and sector specific services.
Notes to editors
About British Business Centre
The British Business Centre is a new body set up by the British Government in Pakistan that marks a step-change in facilitating bilateral trade between UK and Pakistan.
About SEED Ventures
SEED - Social, Entrepreneurship and Equity Development - is an enterprise development organisation and investment firm that works to create and develop a global sphere of entrepreneurial solutions across multiple structured verticals in regional, national and international markets to bring about a societal and economic change. SEED works in a structured and strategic manner to promote and facilitate entrepreneurship at various levels, be it Start-ups, Small & Medium Enterprises (SMEs), Microenterprises or Grass root Entrepreneurs.
A strong mandate at SEED is social and financial inclusion throughout the various landscapes in the region. Its various programmes cater to different segments of the society understanding after extensive research and on-ground work, the different environments and their specific issues and needs.
Hence, the company works with public and private sectors, media as well as academia, and has programmes for urban centres, urban slums, rural, semi rural and regional areas investing in the grassroot economy and start-up landscape.
Published 10 May 2016