World news story
British Berkefeld Filters: British Innovation for drinking
British Berkefeld ceramic water filters are an example of how British innovation is helping to improve our health and quality of life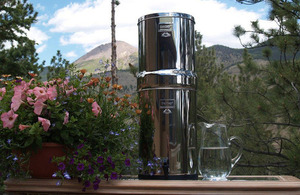 British Berkefeld, a leading British company in innovation since 1800 with products sold in more than 150 countries, has launched in Peru a water ceramic filter that kills 99.9 % of bacteria pathogens that cause diseases such as cholera and helps to prevent various ailments such as stomach infections, kidney problems, cancer and coronary disease. The filter also removes chlorine, and improves the taste and odour of water.
Henry Doulton, a ceramist of the nineteenth century, invented the filter to provide potable drinking water for royalty and remove the risk of contamination from cholera and typhoid caused by pollutants in the river Thames.
British Berkefeld filters are excellent value for money as they do not require a power source to operate and provide up to 20 litres of drinking water each day. As such they are very practical for families who wish to use the filters in their homes and also for businesses that can place them in their offices to provide a safe potable water source free from bacteria.
The filters require less maintenance than fixed filters placed directly on the water source and can be washed over 100 times. Unlike conventional filters, they are fully transportable meaning that they can be easily relocated for use at home or office, whether in the city, on the beach or in the countryside.
The UK is proud of its manufacturing heritage which includes many products that have revolutionised the world. It is also home to many major international manufacturing brands and innovative inventions, British Berkefeld filters being just one example.
British Berkefeld water filters are ideal for families and for businesses looking to save money and provide better quality water for their employees. They reduce electricity costs and the amount of waste associated with the use of plastic bottles.
For more information on British Berkefeld filters, contact jlats@hotmail.com or ventas@faireyperu.com.pe
Published 18 October 2013