World news story
Consular Network in Greece helping hundreds of Brits
British Behaviour Abroad 2012-13 report shows Consular staff in Greece helping hundreds of Brits in trouble.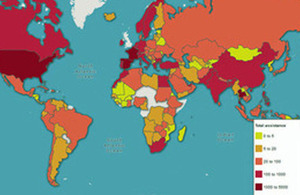 Official figures showed that Consular staff gave assistance to more than 19,000 Brits in need in 2012/13. Overall total assistance figures showed a slight drop of 3% but some countries saw big increases in more serious types of case.
The Foreign & Commonwealth Office (FCO) released its annual British Behaviour Abroad report on Thursday 18 July. The report is based on the cases handled by Foreign & Commonwealth Office staff around the world, between April 2012 and March 2013. It provides statistics regarding the assistance Consular sections provide in the event of, for example, road traffic accidents overseas, deaths, serious injury or illness resulting in hospitalisation, and lost or stolen passports.
Foreign & Commonwealth Office Minister Mark Simmonds, said:
I am proud that our staff continue to offer vital support to thousands of British travellers and residents around the world. Each case can represent great distress for the individuals concerned and for their families. I encourage all British travellers to do everything they can to ensure a safe and enjoyable trip by taking some basic steps to prepare themselves before departure, including taking out comprehensive travel insurance and researching their destination.
I am deeply concerned to see an increase in the number of reported rape and sexual assault cases involving British people. The priority for our consular staff is the safety and wellbeing of British travellers and we will continue to work, including with other Governments and tour operators, to help to prevent further cases and provide all possible support for victims. This support includes explaining local procedures, accompanying people to the police station, helping them deal with local authorities and medical staff and contacting friends and family at home if that is wanted.
Many of the report incidents are preventable. The FCO is appealing to British Nationals travelling or going to live abroad to make some simple preparations before they go in order to minimise the risks:
Get comprehensive travel insurance – read the small print, declare pre-existing medical conditions and make sure it covers you for everything you want to do

Check health requirements – so you can get the right vaccinations and take any necessary medication such as anti-malaria tablets

Research your destination – the more clued up you are, the smoother your trip will be and the less likely you are to find yourself on the wrong side of foreign laws
Consular staff in the British Embassy in Athens and the Consular network in Greece are responsible for helping British nationals who face serious difficulties while in Greece. Throughout the year we work proactively with local authorities, communities, police and tour operators to try to avoid problems and to ensure that British nationals enjoy a safe, trouble-free stay in Greece.
We encourage British nationals to act responsibly in accordance with local law, and take common sense steps to enjoy a problem-free holiday. In addition to the Foreign and Commonwealth Office's "Know Before You Go" campaign, we are currently running a local "Holiday Hangover" campaign specifically targeting holidaymakers in the youth tourist resorts. Our aim is to promote key personal safety messages and warn about the consequences of irresponsible behaviour.
Notes to Editors
Full British Behaviour Abroad report 2013 available here.

Consular Assistance Cases in Greece. Figures correspond to 1 April 2012-31 March 2013:
| | |
| --- | --- |
| Drug Arrests | 14 |
| Arrests/Detentions | 87 |
| Deaths | 165 |
| Hospitalisations | 359 |
| Rapes | 17 |
| Sexual assaults | 12 |
| Total other assistance | 75 |
| Total assistance | 715 |
| Passports stolen/lost | 399 |
For details on how the FCO can help if you get into trouble abroad, please click here.

To see the number of Brits needing consular assistance abroad mapped, click here.

The FCO is encouraging people to sign up to Facebook and Twitter feeds to ensure they are informed of the latest travel advice on facebook or twitter.

The FCO's Know Before You Go campaign encourages British nationals to prepare for their foreign travel so they can avoid preventable problems. A full holiday checklist can be found here.

We encourage anyone who is a victim of rape or sexual assault overseas to contact their nearest Embassy or Consulate for support. There are contact details for Embassies on the FCO website here.

The Know Before You Go campaign targets a number of audiences, from gap year students to package holidaymakers; sports fans to older travellers and people visiting friends and family abroad. The campaign works with around 600 travel industry partners to communicate its messages. For more information click here.

The British Behaviour Abroad report does not include the number of cases handled during crisis situations, as they are recorded differently.
Published 19 July 2013
Last updated 19 July 2013
+ show all updates
different title
First published.