World news story
British beers presence in Peru's food & drink market expands
Peruvians will be able to enjoy a wider variety of British beers, as Greene King Brewery announces two more of their products will arrive in Peru.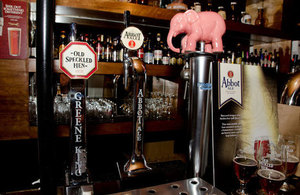 Brewery and pub retailer Greene King announced during a beer tasting event held in Lima on 25 February that its two beers Abbot Reserve and Old Crafty Hen will soon be sold in Peru. Three of Green King Brewery's traditional British beers, Abbot Ale, Old Speckled Hen and Strong Suffolk, have been distributed in Peru since 2006 by Peruvian company Cervesia.
Sonia Lawrence, Marketing Manager for the Americas, of Greene King Brewery, highlighted that Peru's growing food & drinks market, and the Peruvian's eagerness for high quality goods, offered great opportunities for their products.
The food and drinks subsector in Peru presents a great chance to take advantage of the Peruvian gastronomic boom. Consumers are willing to try out new products and enjoy new flavours. This could be exploited by British companies in the sector.
In 2012, the Peruvian retail sector grew faster than GDP with increases in sales of 15%. The groceries subsector is particularly strong in Peru, with supermarket sales predicted to add up to £2.3 billion in 2013. The subsector will continue growing as Peruvians consumers continue to see an increase in their disposable incomes and retailers maintain their expansion throughout Peru. Grocery sales are expected to hit approximately £ 11.7 billion by 2016.
Published 4 March 2014