Press release
British astronaut needs your help
Tim Peake needs help to name his inspirational 6 month mission to the International Space Station.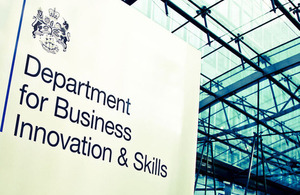 Tim Peake needs help to name his inspirational 6 month mission into space, the first visit by a British astronaut to the International Space Station (ISS).
The competition to name his mission was launched today (14 March 2014) by Universities and Science Minister, David Willetts, at a UK Space Agency event at the Science Museum. Tim took a break from training to talk to school groups via the internet to hear some of the first suggestions.
Minister for Universities and Science David Willetts said:
Tim's flight is a reminder of humanity's desire to explore new frontiers – and of the role that Britain has played in pushing the boundaries of human knowledge.

The naming competition is just 1 of many opportunities for young people to get involved in a mission that will shape the future of Britain's space programme and inspire generations.
Tim Peake said:
The ISS is a cutting edge research laboratory that is pushing the boundaries of what is scientifically, technically and humanly possibly. My 6 month stay onboard mankind's outpost in space is going to be both challenging and incredibly exciting.

The scientific experiments conducted will be wide ranging, covering areas such as medicine, human physiology, core science and material science. ISS research is already producing incredible results - not just to facilitate future space exploration but also for the benefit of people on Earth.
The winning entrant will be a part of this exciting mission, with their suggested name becoming its official title, and will receive a signed mission logo.
Groups of students attending the launch event kicked off the competition by coming up with its first entries. Tim took time out of his rigorous training schedule in Russia to join them via Skype to hear their suggestions, which were inspired by the galleries and exhibits of the Science Museum.
Before joining the ESA astronaut corps in 2009, Tim was a helicopter pilot and a test pilot. He was assigned his mission in May 2013 and has been training non-stop to be part of Expedition 46/47 to the orbital outpost. He is following a long line of British explorers and scientists, from the North Pole and the Nile to the Himalayas and now to outer space.
Tim views it as his responsibility - and the job of ESA's human spaceflight programme – to gain the knowledge to improve people's lives on Earth and to explore our Solar System. He is an ambassador for UK science and space-based careers and works with the UK Space Agency developing their microgravity research programme.
Tim explains:
As a former test pilot I believe that knowledge is gained when we explore the boundaries of what is technically and humanly possible.
Notes to editors
1.Competition details
The competition is open to all citizens or residents of ESA's member states. The winning name will become the official European name of Tim's mission and the winner will receive a signed mission logo.
The competition closes on 4 April 2014 at 11:00 GMT (12:00 CET). ESA bears no responsibility for any delay or loss of entry.
The name should be a word or a short combination of words. Personal names, unless mythological with a commonly known symbolic meaning, will not be accepted.
The proposal should be maximum the equivalent of one A4 page, 12 pt, single space.
Emailed entries must include full name, age, home address and phone number in the form on the ESA website.
The competition is open to all citizens or residents of ESA's member states.
By submitting the application, the applicant gives permission to ESA to publish their name, and hands over to ESA all the rights to use the proposal for the purposes outlined in this announcement and for purposes related to ESA communications.
All submissions are individual. No group submissions will be accepted.
By submitting the proposal, the participant declares that it is their own work and is not copied from any other original work. ESA bears no responsibility for verifying the authenticity of the proposals.
For applicants below the age of 18, by submitting the proposal they confirm that a parent/legal guardian is informed about the submission and agreed to it, taking into account the above conditions.
ESA staff members and contractors and their relatives are not allowed to take part in this competition.
2.Competition page
http://www.esa.int/Our_Activities/Human_Spaceflight/Astronauts/Astronaut_Tim_seeks_mission_name
3.For images from the competition launch, please contact the UK Space Agency Press Office or go to Flickr or the ESA web site.
4.Contacts
Julia Short, Press Officer, UK Space Agency, Tel: +44 (0)1793 418069, Mobile: +44 (0)7770 276 721.
Email: julia.short@ukspaceagency.bis.gsi.gov.uk
Matthew Goodman, Head of Communications, UK Space Agency, Tel: +44 (0)1793 41 8085, Mobile: +44 (0)7766 780 926.
Email: matt.goodman@ukspaceagency.bis.gsi.gov.uk
5.UK Space Agency
The UK Space Agency is at the heart of UK efforts to explore and benefit from space. It is responsible for all strategic decisions on the UK civil space programme and provides a clear, single voice for UK space ambitions.
The Agency is responsible for ensuring that the UK retains and grows a strategic capability in the space-based systems, technologies, science and applications. It leads the UK's civil space programme in order to win sustainable economic growth, secure new scientific knowledge and provide benefits to all citizens.
The UK Space Agency:
co-ordinates UK civil space activity
encourages academic research
supports the UK space industry
raises the profile of UK space activities at home and abroad
iIncreases understanding of space science and its practical benefits
inspires our next generation of UK scientists and engineers
licences the launch and operation of UK spacecraft
promotes co-operation and participation in the European Space programme
6.The government's economic policy objective is to achieve 'strong, sustainable and balanced growth that is more evenly shared across the country and between industries'. It set 4 ambitions in the 'Plan for Growth', published at Budget 2011:
to create the most competitive tax system in the G20
to make the UK the best place in Europe to start, finance and grow a business
to encourage investment and exports as a route to a more balanced economy
to create a more educated workforce that is the most flexible in Europe
Work is underway across government to achieve these ambitions, including progress on more than 250 measures as part of the Growth Review. Developing an Industrial Strategy gives new impetus to this work by providing businesses, investors and the public with more clarity about the long-term direction in which the government wants the economy to travel.
Published 14 March 2014