British Army officer helps Afghan General learn English
Brigadier General Sherin Shah, the Commander of 3rd Brigade of 215 Corps of the Afghan National Army (ANA), spends around two hours a day hitting…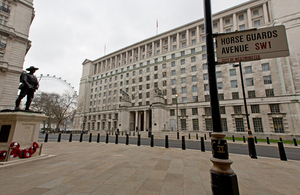 Brigadier General Sherin Shah, the Commander of 3rd Brigade of 215 Corps of the Afghan National Army (ANA), spends around two hours a day hitting the books to learn the language when he is not out in the field on operations.
The Brigade is based at the ANA's Camp Shorabak, which is next to the major British base of Camp Bastion.
The Commander speaks several languages, including Russian, Farsi, and the Afghan languages Pashto and Dari. He is keen to learn English to bridge the communication gap with his British and ISAF colleagues.
His current teacher is Lieutenant Roz Ashworth, an education and training officer with 2nd Battalion The Rifles. The Northern Ireland-based regiment are serving as advisors to Brigadier General Shah's ANA Brigade, assisting their Afghan colleagues in everything from planning major operations to logistics and supplies.
Lieutenant Ashworth, aged 30, from Rochdale, has been trained to speak Dari and also teaches British soldiers the basics of the language to help them communicate with their Afghan partners and civilians while on operations. She said:
At the moment most communication is done through a large number of interpreters. However, senior officers in the Afghan Brigade headquarters are very keen about learning English to strengthen relationships with their British partners.

The General is very keen and incredibly dedicated to the job. He is often out on operations but when he is in camp he spends about two hours a day on it. He picks it up quickly and he's at the stage where he can easily hold conversations without an interpreter. He's got a good sense of humour as well, which helps the lessons!
Brigadier General Shah said:
It's really important to have a command of English so that I can communicate with ISAF. My understanding of English is growing, but we are working hard on my writing. Of all the languages I have learned, English is the hardest.
Published 10 February 2012