British Army medics support Afghan health project
British and Afghan soldiers have recently been helping to improve the public health of the local communities in which they work in southern Nad 'Ali, Helmand province.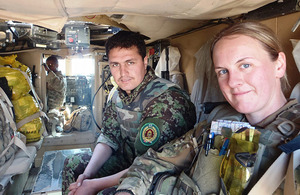 The community health project is aimed at increasing the reach of Afghanistan's Ministry of Public Health. It was launched last month with a public gathering at Nad 'Ali's district centre clinic, run by the District Health Officer and his staff.
Troops from Shropshire-based 1st Battalion The Royal Irish Regiment (1 R IRISH) and the Afghan National Army (ANA) have been playing a key role in ensuring lessons are cascaded down to the smaller villages or 'kalays'. This is particularly important as it is people in these more rural areas who find it most difficult to get to clinics.
Since the initial session, the district centre clinic employees, local elders, Afghan National Police (ANP) officers and British and Afghan troops have worked together to run and support workshops in as many areas as possible, covering training in basic health matters including family planning and malaria prevention.
The key figures throughout have been Major Nicola MacLeod, medical officer for 1 R IRISH, and Dr Noorullah Zyarmal, an ANA doctor based at Forward Operating Base Shawqat, who have worked together to ensure the public health messages are circulated as widely as possible.
The initiative continues to spread. While the involvement of local police was initially to provide security for the events, policemen have more recently been attending the basic healthcare training sessions so that they too can pass on the information to colleagues and family members.
Dr Zyarmal has also been able to meet with and offer guidance to Pashtun doctors in the town of Sayedabad, working in a recently-reopened clinic which had been closed due to insurgent activity and fighting:
Teaching about health has been an opportunity to meet locals and get some messages to them to make their lives easier and healthier," he said.
A little knowledge can go a long way. Our hope is that those we have trained will share this information in schools, at mosques and with their families.
Major MacLeod said:
The Afghan Ministry of Public Health have some good clinics in Nad 'Ali and recognise the need for community outreach. This project helps them extend to the more rural and poorer areas with the help of the ANA, the ANP and us.
The local elders understand the benefits of preventative medicine and often put forward teachers, or the mullah, for training, as they see that cascade of education is an important part of promoting health in their communities.
Captain Simon Richards, of 16 Medical Regiment, who has also been involved with the project, added:
Working with the ANA, and in particular with Noorullah, on this project has been a real pleasure. It's always so much easier for an Afghan to get information across to Afghan people so having a respected figure like him on board has made the initiative significantly more effective.
Published 3 March 2011