British and German Defence Ministers meet
The two ministers discussed a range of issues including the Afghan training mission and the need for further progress before transition to the…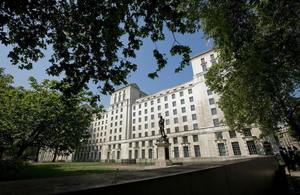 The two ministers discussed a range of issues including the Afghan training mission and the need for further progress before transition to the Afghan authorities can take place.
With almost 4,500 troops deployed in Afghanistan, Germany is the third largest contributor to the ISAF mission.
Dr Fox said:
NATO forces are making progress in Afghanistan and, as lead nation in Regional Command (North), Germany's contribution to ISAF is extremely important in ensuring this continues.

Dr zu Guttenberg and I had an extremely productive meeting here today; as key members of NATO and leading military nations in Europe, a strong German-UK defence relationship is important for both our countries' security and stability in the wider world.
Germany recently revised its rules of engagement, which has seen them engaging further in countering the insurgency in northern Afghanistan. Welcoming the progress that the German troops have made, Dr Fox said:
Progress in Afghanistan is essential for the local population and all the coalition allies. All ISAF partners are working hard to ensure that the security conditions are in place to allow the Afghan Government to take responsibility for their own security.
The Defence Ministers were asked about a timetable for withdrawal. Dr Fox responded:
We are in agreement on the importance of setting aspirations. They provide the momentum to make further progress. By degrading the threats and increasing the capability of the Afghan forces, the conditions will be in place to enable us to bring our forces home without leaving behind a security vacuum.
In addition to their combat role, the German Armed Forces are heavily involved with training the Afghan National Security Forces. They currently contribute seven Operational Mentoring and Liaison Teams and two of the five Provincial Reconstruction Teams in Regional Command (North) where Germany is the lead nation.
Following the meeting Dr Fox said:
Dr zu Guttenberg and I discussed many issues, including, of course, Afghanistan, but also NATO and Europe. We were both agreed on the importance of NATO working together to improve ways in which it delivers capability and the need to deliver major operations like Afghanistan in the future.

I have found our meeting to be one of the most informative and productive since I have taken up the post and I look forward to working closely together in future.
Published 29 June 2010