World news story
British Ambassador visits Sexual Violence Prevention Project in Sololá
The British Ambassador to Guatemala, Sarah Dickson, visited Sololá today and took part in the project "Guatemala Never Again", a UK financed initiative that seeks to empower sexual violence victims in Guatemala's rural areas.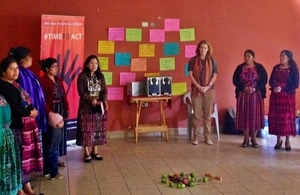 During her trip to Sololá, Ambassador Dickson supervised the work of the National Union of Guatemalan Women (UNAMG), the organization responsible for carrying out the project, which aims to improve communication and break taboos in rural communities through theatre and other artistic activities.
The communities benefitting from this project are located in three regions of the country (west, northwest and central). The project will take place over one year and has received over Q 300,000 from the Preventing Sexual Violence Initiative (PSVI) a UK led programme.
Guatemala is a priority country for this initiative and local representatives participated in an international conference on this topic in London from 10 to 13 June. Government members and civil society engaged in a constructive dialogue, during which Mayra Coc, an indigenous child from Baja Verapaz, participated as the voice of the new generation of Guatemalans.
UNAMG is a feminist organization that works to promote Guatemala's social diversity and its political transformation.
After her visit to Sololá, the Ambassador will travel to Quiché, where she'll preside over the launching of a lynching prevention protocol, together with the Myrna Mack Foundation and local authorities.
Published 28 August 2014