World news story
British Ambassador to visit project in Chimborazo Province
During the visit, Ambassador Mullee will assess the results of the project, which provided first aid equipment and training to the community of Pistishí.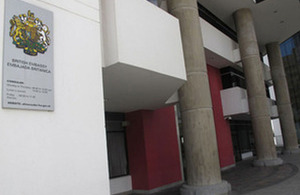 On 31 October, British Ambassador Patrick Mullee, along with the Embassy's Political and Projects Officer Joaquín Vallejo, will visit the community of Pistishí Tolte, in the Municipality of Alausí, Chimborazo Province, to witness the impact of a project that the Embassy supported through its bilateral programme, providing first aid equipment and training.
The non-refundable grant benefited the 500 inhabitants of the community through a project that consisted in capacity building on first aid and equipment for the community's first medical attention centre. The project was designed and implemented by the Fundación AVANTI at the beginning of 2013. This project is part of the organisation's strategy for the sustainable development of the community that they have been supporting for the last five years.
Published 22 October 2013