British Ambassador to Tunis visits SidiBouzid, Gafsa & Kasserine
British Ambassador reiterates UK support to Tunisia's democratic transition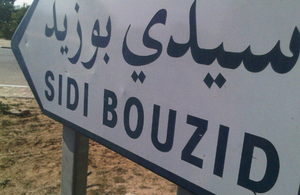 British Ambassador Hamish Cowell will visit Sidi Bouzid, Gafsa and Kasserine from 9-11 December. During the visit, which will coincide with International Human Rights Day, the Ambassador will pay a tribute to the sacrifices made by Tunisians by visiting Mohamed Bouazizi's memorial and 'SANAD', a newly established assistance centre for victims of torture and mistreatment, in Sidi Bouzid.
The Ambassador will meet with the Governors of each city and visit six projects financed and supported by the British Embassy in Tunis. The projects areas range from supporting freedom of expression such done through the work Article 19 in supporting Sawt al-Manajem FM radio in Gafsa. The focus of the project is to assist the development of free independent media by providing technical advice.
In Kasserine, the Ambassador will visit a selection of entrepreneurs who received financial and technical support to start-up businesses as part of the Embassy's project Souq Ettanmia run in partnership with the African Bank for Development to support economic growth in Tunisia.
And in Sidi Bouzid, Hamish Cowell will visit a project run by the Electoral Reform International Services (ERIS), a British organisation working on promoting the participation in electoral processes among secondary school teachers and students. The organisation reached 23.000 persons last year and 27.750 persons this year nationwide.
"On the occasion of Human Rights Day, I dedicate a thought to all of those who were subject to torture and mistreatment. We recognise this is an issue here. The UK as a friend of Tunisia will provide support for necessary reform." said Hamish Cowell prior the visit.
"I look forward to seeing some of our projects in action in the interior regions of Tunisia and to witness the change they make to people lives. I intend to discuss during my meetings with Governors the UK's commitment to support the democratic transition. I would like also to discuss one of my priorities of boosting the people to people relations between UK and Tunisia." added Mr Cowell.
Through its Arab Partnership Fund, the British Embassy in Tunis is supporting a number of projects to fight corruption, support freedom of expression, develop political participation and support economic growth. The UK had invested a total of £2.5 million (7 million TND) in 2013 alone.
For more information
· Check our Arab Partnership Page
· Stay informed by liking our Facebook Page and following us on Twitter.
Published 6 December 2013