World news story
British Ambassador to Poland addresses the 2nd World Meeting of Polish Engineers
On 26 July ambassador Robin Barnett gave an opening speech at the 2nd World Meeting of Polish Engineers in Warsaw.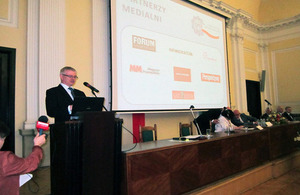 The event was organised by the Polish Federation of Engineering Associations (NOT), under the patronage of Bronisław Komorowski, President of the Republic of Poland. The aim of the meeting was to discuss strategy for development of Polish science and economy, with a special focus on infrastructure, renewable energy, ecology, digitalisation and training of future engineers. Over three hundred engineers from Polish diaspora all over the world came to Warsaw to participate in the conference.
Ambassador Barnett said that engineers have a key role to play in both the UK and Poland, with technology being a key driver of modernisation and development. He thought that the conference came at an ideal time, on the eve of the next EU funding framework which will be a catalyst for continued development and modernisation in Poland and saw specific opportunities for UK –Polish collaborations in the areas of energy and infrastructure.
Other key speakers were Barbara Kudrycka (Minister of Science and Higher Education), Olgierd Dziekoński (Secretary of State, President's Chancellery) and Senator Andrzej Person (Head, Senate's Emigration Affairs and Contacts with Poles Abroad Committee).
Published 27 June 2013