World news story
British Ambassador to Belgium hosts "Smart Data" debate
Webinar with Vice-President of the European Commission Neelie Kroes stresses importance of and opportunities for smart and big data.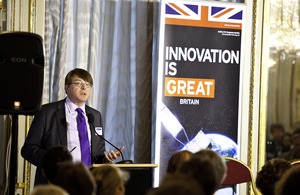 On 23 May 2013 the British residence in Brussels hosted a Science Business webinar on 'Smarter Data for Europe,' debating the development of 'big data' and how applications and e-infrastructure can stimulate a new wave of economic and social progress and needs leadership from both the public and private sector.
The event, attended by academics, government officials and industry representatives included speeches by British Ambassador to Belgium Jonathan Brenton and Vice-President of the European Commission Neelie Kroes.
Ambassador Brenton said:
We in the United Kingdom (UK) want to be at the heart of the debate in Europe about how we adapt ourselves for a digital age. We very much support Vice-President Kroes' work in completing the single digital market and we recognize the views of business and the scientific community in the UK. Our scientific tradition in the UK is something that we can bring to the European table.
Vice-president of the European Commission Neelie Kroes, who gave the keynote speech, said:
Competition is helping our digital society and helping innovation, giving our economy a much needed boost. Knowledge is the engine of our economy, and data is its fuel.
Her full speech can be viewed on the website of science and business
After the keynote speech two panel discussions focused on real world examples of big data and on overcoming barriers to implementation, with distinguished panelists such as Andrew Morris, Chief Scientific Officer for Scotland, John Wood, Secretary-General of the Association of Commonwealth universities, and Dan Pelino the General Manager Global Public Sector for IBM.
For more information on the event or upcoming events organized by the British Embassy Brussels, follow us on Twitter or Facebook.
Published 4 June 2013