World news story
British Ambassador recognises Gamma Solutions investment in the UK
The British Ambassador Simon Manley has presented a trophy to Gamma Solutions in recognition for its investment in the UK which led to UNCTAD award to UKTI for excellence in promoting foreign investment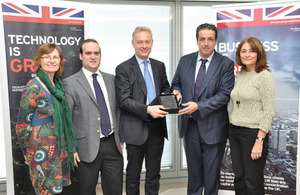 UK Trade and Investment (UKTI) in Madrid smoothed the way for Spanish engineering innovation company Gamma Solutions to set up in the UK.
During a ceremony in the British Embassy, in Madrid, Simon Manley welcomed Gamma Solutions planned investment of £400 million into the UK in 2014-2017. This work led to UKTI receiving the prestigious UNCTAD award 2014 (United Nations World Investment Forum) as the leading Investment promotion Agency in Europe and Developed Markets.
The company started out in Madrid in 2002, conducting telecommunications engineering for mobile networks. In 2005, Gamma Solutions diversified into energy, specialising in solar PV rooftops projects. In 2006, it opened an R&D department.
In choosing where to focus its international efforts, the company's research showed that the UK has a very active energy sector, strong telecoms and mobile sectors and a supportive attitude to R&D. In 2013, UKTI gave business support including detailed discussions, liaison with key specialist contacts in the UK and advice in several areas over a long period.
Today, Gamma Solutions has an office and research and development facility in the Innovation Centre at the University of Exeter and has expanded into The City. The company plans to:
generate 325MW capacity by 2017, enough electricity to power over 600,000 homes
reduce fossil fuel CO2 generation output by 640,000 tonnes per annum
Gamma CEO José Manuel Zorrilla said:
We have been very impressed with the Innovation Centre in Exeter and it is an excellent environment for us to work in
UKTI has been really helpful to us. They provided us with reliable market research to inform our decisions. This gave us a solid beginning which has allowed us to grow.
Published 9 February 2015