World news story
UK is partner country for 2014 CeBIT trade show in Hanover
From:

Part of:

Published:

28 January 2014

Last updated:

6 February 2014, see all updates
This was published under the 2010 to 2015 Conservative and Liberal Democrat coalition government
Ambassador welcomes opportunity to showcase UK's strong ICT sector and its leading market position for software and IT services in Europe.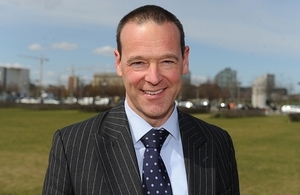 Speech by Simon McDonald, British Ambassador to Germany, at the CeBIT 2014 Press Preview in Hanover, 28.01.2014
Ladies and Gentlemen,
This is a special year for British-German relations in every respect, and our partnership with the Hanover Fair is no coincidence. Among other anniversaries in 2014, we shall be celebrating the 300th anniversary of the Personal Union between the British throne and the Electorate of Hanover. For 123 years we had a series of shared kings who were virtually all called "George" or "Georg". To mark this occasion we shall be holding our annual Queen's Birthday Party in honour of Her Majesty Queen Elizabeth II at Schloss Herrenhausen here in Hanover in June.
I am proud that the UK is this year's partner country for CeBIT, the world's largest trade fair for information and communications technology. Compared with 2013, we shall more than double the number of British exhibitors and triple our exhibition space. In March we shall not only be presenting British exporters of IT in sectors such as e-health, cyber security, intelligent cities and big data but also showcasing the UK as an investment location. We offer you a foretaste of that today: the ICT giant British Telecom is here as well as the software companies "Peachinc" and "Tento".
And my colleagues from UK Trade & Investment have further information for you on the British exhibitors and events.
The British economy has been going through difficult times over the last five years. We are recovering from the deepest recession since the Second World War. But, while we are not complacent and we have a long term plan to put the economy back on its feet, the UK economy is now growing faster than any other in Europe, including Germany and France. The IMF predicts the UK economy will grow by 2.4 per cent in 2014 and by 2.2 per cent in 2015.
We are also creating jobs: over the last three months of 2013, in the largest quarterly fall since 1997, unemployment in the UK fell to 7.1%. The number of people in a job recorded the largest quarterly increase since records began. There are now a record-breaking 30.15 million people in work – an increase of 1.3 million since 2010.
Germany is a key partner for us as we search for jobs and growth. We are each other's biggest trading partners. We export around Euro 90 billion a year in goods and services to Germany. About 2,500 German companies employ 400,000 workers in the UK. The success in the UK of German companies like BMW and VW shows that we are becoming part of the value chain which is driving export success for both our countries in the wider world.
The ICT Sector is an important part of the UK's economy future. It's worth £58 billion and employs 1.3 million people. Measured against the rest of Europe, we have the leading market for software and IT services in Europe, the largest network of Wi-Fi hotspots and the biggest app market.
We have a highly innovative retail sector using the latest technologies and business models.
We are also open to trade and co-operation with the world. Young, high-growth companies from all over the globe are attracted to Britain and almost all the major global technology businesses have operations in the UK. Indeed over half the companies attending and exhibiting here today (12 out of 23) have a branch in the UK and half of those actually have several locations around the UK.
One place they are attracted to is Tech City UK. Backed by the British Government, located near the site of the London 2012 Olympic Games, Tech City is one of the UK's most dynamic areas, growing since 2006 into a cluster of more than 1,200 technology, digital and creative firms. It is therefore one of the largest concentrations of fast-growing digital technology companies in Europe. Global leaders such as Google, Cisco and Amazon are there. Germany's Zalando is there. We want others to join them.
All this makes the UK the right partner for CeBIT in 2014.
Most important of course are the British companies, which represent, British strengths in innovation and creativity.
British Telecom will showcase their Dolby conferencing technology in the British Business Lounge.
There will also be innovative new companies, start-ups and SMEs who have won places in the Code_N and UK Trade & Investment's start-up competition, such as Peachinc, which is one of the most advanced ticketing companies in the world, and Tento, who have developed a revolutionary approach to fighting cyber crime. Both are here today. I encourage you all to go and see them and their products afterwards.
There will also be a UK Research & Innovation zone at CeBIT reflecting the fact that the UK is home to three of Europe's top-five technology universities and produces 9% of the world's scientific papers – second only to the US.
We also have a wider programme of events planned, such as the British-German ICT Summit with Lord Livingston, our minister for Trade & Investment and Joanna Shields, Chairwoman of Tech City, a "Women Leaders in Tech" event and, at Schloß Herrenhausen, we will host an ICT CEO Dinner, to link the past with the present.
Before I finish let me say again that we are delighted to be CeBIT 2014 Partner Country in the year we celebrate the 300th Anniversary of the Personal Union between Hanover and Great Britain.
Britain is exactly the right partner for CeBIT. We have one of strongest ICT Sectors, the right infrastructure and a clear focus on ICTs as part of our own future success.
Thank you.
Document information
Published: 28 January 2014
Updated: 6 February 2014
Added translation
Added translation