World news story
British Ambassador meets local charities in Murcia
The British Ambassador Simon Manley has welcomed the efforts of English speaking charities in the Murcia region for their close working with local authorities, and has highlighted the importance of Murcia as a location for British tourism and for its agricultural exports to the UK.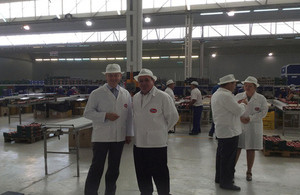 During a visit with Consul Paul Rodwell to Murcia on Tuesday and Wednesday this week, Mr Manley thanked the charities for the invaluable support they offer to the English-speaking community. He said he was impressed at the way they work with and are supported by local town halls and, in turn, how they complement the local town hall services offered to the most vulnerable expatriates.
Mr Manley met charities including Help at Home Mar Menor, MABS cancer support, HELP Murcia Mar Menor, Pals and Forget Me Not, which offers hospice care for the terminally ill. He said their work with the town halls represented an excellent example of integration and joint working, and thanked volunteers for the time they give to help others.
In separate meetings with the local authorities in Murcia, Mr Manley stressed the important links between Murcia and the UK in terms of agricultural exports to the UK and tourism. Last year more than 450,000 UK passengers arrived in San Javier airport - 84% of the total passenger traffic.
The British Ambassador also raised the UK Government's concerns over the ongoing property problems that affect some British nationals, encouraging the local and regional authorities to work to resolve the issues.
Mr Manley said:
I have been able to meet and speak to volunteers who give up their time and resources to support the most vulnerable, and to tell them in person how immensely grateful we are for their dedication and hard work.
It has been a valuable visit as I have also met local authority leaders, strengthening the UK's connections with the region and highlighting the value of British tourism.
During his visit, the Ambassador also met with the President of the Region of Murica, Alberto Garre López, the Delegado del Gobierno, Joaquín Bascuñana García and Miguel Ángel Cámara, the Mayor of Murcia.
Published 1 October 2014