World news story
British Ambassador marks completion of 6th Civil Service Development Programme
This programme aims to enhance the policy making, influencing, leadership and management capabilities of leaders.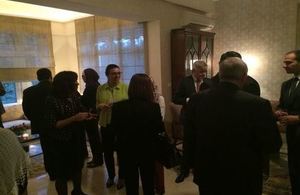 On 28 October, British Ambassador to Jordan, Edward Oakden, hosted a reception to celebrate the successful conclusion of the 6th Cycle of the Civil Service Development Program in Amman.
The programme, which is run by the King Abdullah Fund for Development as one of its leadership programmes, consists of three workshops; two held in Amman in April and June and the final one at Sandhurst. In 2009 the King Abdullah Fund for Development approached the Inspirational Development Group (IDG, an award winning UK based global leadership and management development consultancy) to work with them to achieve HM King Abdullah II's vision of political openness and economic and social development.
The programme aims to enhance the policy making, influencing, leadership and management capabilities of leaders from a cross section of ministries, government entities, the private sector and local NGO's.
Ambassador Oakden, speaking at the event, said: "I am delighted that this group of incredibly talented Jordanian public servants were able to take part, sharing expertise with their counterparts in the UK."
Minister of Planning and International Cooperation and Chairman of KAFD's Board of Trustees Imad Fakhoury said the KAFD is keen on motivating the participants in the programme to join forces with fellow alumni to collaborate and interact in the spirit of being and belonging to one team.
Addressing the delegates, Fakhoury said: "You, the leaders of tomorrow, need to optimally utilize skills acquired in your lives and careers to reap the benefits of your efforts thus far and transfer your observations to your fellow colleagues and subordinates for the benefit of all." Jimmy Gordon (Programme Director and Chairman IDG Middle East) said that "Given our long association with Sandhurst, where so many members of the Jordanian Royal Family have been trained , we are privileged to work with KAFD building a values based leadership which can support the well-being of Jordan in these critical times."
Hala Juweinat, one of this year's participants and Director of Policies at the Housing Development Corporation said that: "Our journey starts from here. We will continue to work with dedication for the development of our organisations and the prosperity of our communities."
The programme benefits from a unique partnership between the King Abdullah II Fund for Development and IDG which , in turn, has had a unique 15 years- long partnering agreement with the Royal Military Academy Sandhurst in the UK. Over 140 Jordanian leaders have benefitted from the programme since it was instituted in 2009 and now form a strong alumni network of high achievers dedicated to delivering measurable and sustainable benefits to the Kingdom.
IDG which has been working in the Middle East for ten years through offices in Muscat and Dubai has this month appointed its first full-time Jordan based consultant, HRH Noor Bint Asem.
Document information
Published: 29 October 2015