World news story
British Ambassador Jonathan Allen leaves Bulgaria in January 2015
This was published under the 2010 to 2015 Conservative and Liberal Democrat coalition government
Jonathan Allen, British Ambassador to Bulgaria, has been appointed Director for National Security at the British Foreign Ministry.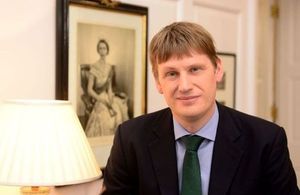 The British Ambassador to Bulgaria, Jonathan Allen, will be returning to the UK in January 2015 to take up the position of Director for National Security at the Foreign & Commonwealth Office. Jonathan Allen arrived in Bulgaria in January 2012 with a three-year mandate.
The next British Ambassador to Bulgaria will be Emma Hopkins, OBE, who was appointed in September 2014. Emma Hopkins is expected to take up her new role in May 2015. At the moment she is undertaking intensive Bulgarian language training.
Deputy British Ambassador, Sarah Riley, will become Chargé d'Affaires between February and May 2015.
Notes to Editors
More about H.E. Jonathan Allen
Jonathan Allen took up his post as the British Ambassador to Bulgaria in January 2012. Before that, he was Head of the East Africa and Great Lakes Department of the FCO.
Prior to that Jonathan established and led RICU, a cross-Government Counter-Terrorism communications unit, and was Assistant Director in the Home Office's International Directorate with responsibility for Bulgarian and Romanian entry into the EU (2006-2007). He began his career on EU issues and has been posted to Cyprus and Brussels, where he was Government Spokesman during the UK Presidency in 2005.
Ambassador Allen has Bachelors and Masters degrees in History from Cambridge University. He is married to Elizabeth, and they have two children, Lucy and Benedict (who was born in Sofia in November 2013).
More about Sarah Riley
Sarah Riley took up the post of Deputy British Ambassador to Bulgaria in September 2014. Before that Sarah was First Secretary for the region of Russia, Eastern Europe, South Caucasus and central Asia in the UKREP in Brussels. Between 2008 and 2010, she was Head of Southern Africa Section, Africa Directorate in FCO. In 2008, Sarah was Deputy Team Leader of the EU Bill team. From 2004 to 2008 she was Second Secretary EU at the British Embassy in Warsaw. Before that Sarah managed the media arrangements for international media groups covering high level incoming VIP visits.
Sarah's Undergraduate Degree is in Politics, Sociology and French from Aston University and her Postgraduate is in International Relations from Sheffield University.
Document information
Published: 17 December 2014