World news story
British Ambassador John Kittmer inspires civil society in Greece
This was published under the 2010 to 2015 Conservative and Liberal Democrat coalition government
John Kittmer spoke to representatives of local charities and NGOs in Crete.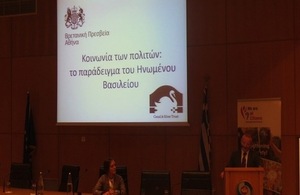 In a speech he gave at the presentation of We are all citizens road show event in Heraklion, Crete, John Kittmer highlighted the advantages of a strong and independent civil society in the modern world. The conference was organised by the Bodossaki Foundation which operates EEA grants in Greece.
John Kittmer said:
My country has a long history of encouraging an active and vibrant civil society, in which all citizens can play a full, active and satisfying role. It's for this reason that I was very keen to accept the Bodosaki's invitation to speak today. I am here to share some of our experience, to give a flavour of some developments we have underway, and to float some ideas. I hope that this will be seen as a useful encouragement, particularly to Greek NGOs and to Greek citizens. I wish everyone who is involved in "We are all citizens" every success. This programme deserves to succeed.
Read full speech on civil society (MS Word Document, 20.6KB)
UK government policies are designed to support charities and community interest. Policies include making it easier for people to set up and run a charity or voluntary organisation and providing funding tadn other support to encourage social action and community – led solutions. Government wants communities to take greater control of the places they live in and make a difference to their local area.
We Are all citizens programme aims to strengthen civil society and facilitate the contribution of NGOs to social justice, democracy and sustainable development.
Document information
Published: 3 October 2014