World news story
British Ambassador in Uruguay, Ben Lyster-Binns visited Falklands
Read Ben Lyster-Binns' testimony about his visit to Falkland Islands with fellow British Ambassadors from Brazil and Chile.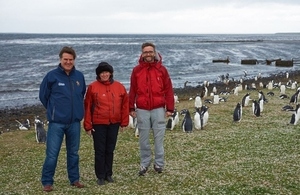 I recently made a fascinating visit to the Falkland Islands. It's a very British country. Overall it's about half the size of Wales, but it looked and felt to me more like Scotland. The landscape is windswept and rugged. It's not an easy environment. But there is a great sense of peace and freedom.
Anyone can visit the islands. Tourists come from all round the world to see the amazing pristine environment and incredible birds, especially the penguins. A good number of visitors are British and Argentine veterans of the war in 1982. They are welcome to pay their respects as I did in the British and Argentine cemeteries.
For me it must be one of the most developed, well educated and competent self governing communities of 3000 people in the world. The Members of the Legislative Assembly and the Falkland Islands government take difficult decisions on for example infrastructure, health and the islands future. They decide what the priorities are and how the island economy will fund them. The UK is responsible for foreign policy, though the islanders have a powerful voice themselves and MLAs often travel to other countries so they can explain Falkland Islands' reality. The UK is also responsible for defence and continues to provide the military presence on the islands as a deterrent. But Stanley is no garrison town. It's a normal place with normal people living normal lives. The population is made up of over 30 nationalities. I met Falkland Islanders of Chilean, St Helenian, Argentine and even Uruguayan descent. They live there because they like it the way it is.
The Falkland Islanders feel a strong relationship with Uruguay going back a long way. Trade and agriculture continue to be an important common bond. There is also scope to extend joint activities in the fields of science, education and culture.
I much enjoyed my time there alongside my colleagues from Brazil and Chile. I came away with renewed respect for the people and their country. I am immensely grateful to all those who made my experience so valuable and memorable.
Ben Lyster-Binns.
Published 24 February 2015