World news story
British Ambassador to Ireland honours role of the Gaelic Athletic Association
British Ambassador to Ireland, Dominick Chilcott spoke warmly of the GAA's role in strengthening communities across Ireland and the UK at a gala dinner in London.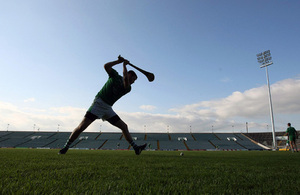 15 February 2014
Gaelic Athletic Association (GAA) President, Liam O'Neill, Irish Ambassador to Britain, Dan Mulhall, Chairman of the London Board, Noel O'Sullivan, Mr Tommy Moran, distinguished guests, ladies and gentlemen, good evening.
My wife, Jane, and I are really very grateful to the London County Board of the GAA for inviting us to your Gala dinner at the Crown Moran hotel. It is a great privilege to be the guests of the GAA in London.
As the British Ambassador to Ireland, I feel particularly honoured to be here and for the second time. Thank you for inviting me back to the most successful and vibrant unit within the GAA outside of the island of Ireland. Congratulations to all the teams for their achievements last year.
Ladies and gentlemen, you don't need to hear this from me to believe it but I want to say it anyway: the GAA is a very great organisation by any standards.
First and foremost, its reputation stands on the firm foundation of its love of terrific sport. Jane and I, like most British people get huge enjoyment from watching sport and we are converts to Gaelic games.
Sporting combatants playing for love not money who, in hurling's case, with only helmets for protection, clash with ash sticks while trying to catch a ball, made of cork wrapped in leather, travelling at a terrifying velocity., playing the fastest contact sport on grass in the world…that was one British newspaper's description of the excitement of GAA sport.
And there can be few sporting occasions as exciting as an all-Ireland final. I've now been lucky enough to go to three of them and they were each marvellously colourful, raucous and exuberant displays of sporting competition at its best.
A full house at Croke Park is a thing of awe and beauty; the rivalry between the opposing fans is noisy and intense but, and this must be a cause of pride and satisfaction to all concerned, the fans always seem to be well behaved.
Last season produced hurling of the very highest order, according to all the pundits. The Guardian newspaper was so moved by the all-Ireland final between Clare and Cork that it published an editorial in praise of hurling, comparing favourably the amateur spirit of endeavour of the hurlers to the antics of the highly paid professionals of the Premier League.
So the GAA sets an example on the pitch and in the stands from which other sports would do well to learn.
More generally, our societies, whether in Ireland or in Britain, need to inculcate the habit of playing sport in young people, for whom television, x-boxes and computers provide a strong temptation to spend too much of their time sitting down.
By organising sport at the community level, the GAA is getting our young people literally off their backsides and out onto the games fields. By encouraging children and young adults to take up sport and get fit, the GAA is making a very significant contribution to the wider health and well-being of our societies.
A further reason for admiring the GAA is its social work. Its network of clubs across Ireland and overseas helps alleviate loneliness. This prompts new friendships and opens up new possibilities for its members.
The GAA supports Irish families when they move abroad. By providing newly arrived Irish men and women with a ready made home from home, they are making it more likely that the transition to a new country will be a successful one.
The GAA is thus an important component of the successful integration of so many Irish people into British society.
The GAA is also playing an increasingly prominent role in peace-building in Northern Ireland. No less a person than Peter Robinson, the First Minister, praised the role of the GAA in a speech at Queen's university Belfast last October.
Mr Robinson was the guest of the GAA that night. He readily acknowledged - and here I'm quoting him - "the contribution that the GAA has been making towards the goal of a shared and united community in Northern Ireland". He was confident that the work the GAA had done and continued to do would "play a very significant role in the years to come in building a better and brighter future".
Ladies and gentlemen, I am sure you will agree with me that it is a wonderful sign of progress to hear a First Minister from the Unionist tradition speak so warmly about the GAA.
And the GAA's peace-building has not been confined to North-South efforts. It has also played a central role in East-West reconciliation.
No-one who watched it on TV, let alone who was there in Croke Park on the day, will forget the Ireland-England rugby match in 2007. For the first time, God Save the Queen was played in the Republic at a sporting contest. That was followed by a rousing rendition of Ireland's national anthem. It was a moment of real catharsis.
Many of the Irish players had tears running down their cheeks, such was the emotion. This was one game, at Croke Park against England, that Ireland had to win, which, of course, they did triumphantly and by a record margin.
Croke Park and the GAA were centre stage again when Her Majesty Queen Elizabeth visited Ireland three years ago. Her visit to the home of the GAA was full of significance and healing.
The GAA has tremendous power in its reach and influence across Irish society - in Ireland and amongst the Irish diaspora. It is rightly a highly respected organisation. And I applaud it for using that power to help build better relations between Britain and Ireland.
I recently came across the GAA's mission statement. You may be familiar with it. "We welcome people of all nationalities, religions, ages and abilities into our association and make it easy for everyone to take part. We champion equality within the Irish sporting landscape and communities overseas. We work with the GAA family to make sure that we offer an inclusive and welcoming environment for everyone."
In Jane's and my experience of living in Ireland now for nearly two years, that generous spirit of inclusivity in the GAA's mission statement is all of a piece with Ireland's welcoming culture.
Over the course of 32 years in the Foreign Office, we have had seven overseas postings; Ireland has been the most welcoming country we have moved to.
Talking of warm welcomes, in two months' time, history will be made when President Higgins pays a state visit to Britain, the first Irish president to do so. A state visit, in diplomatic protocol, is the highest form of engagement one country can have with another. Buckingham Palace are determined to make the president's visit very special.
This visit will complement the visit of Her Majesty the Queen to Ireland in 2011. I look forward to it giving a further boost to British-Irish relations as the Queen's visit did. The president's visit will also be a chance to celebrate the Irish community in Britain and to acknowledge the contribution made over the years by Irish men and women in all walks of British life.
I am sure that the GAA family in Britain are looking forward to the state visit as eagerly as Dan Mulhall and I are.
President Higgins has been here before, of course. On one of his visits, in June 2012, the president came to the GAA's headquarters at Ruislip, the first serving Irish president to see it.
President Higgins recalled that visit in his address to the GAA in Derry last March. The President said he had been hugely impressed that day by the solidarity shown by young Irish men and women who were part of the GAA family in Britain and the scores of young children who were enthusiastically chasing the football or the sliotar on the field of play.
Ladies and gentlemen, this year, with President's Higgins's State Visit, with the pick up in the economies of our two countries, with the strengthening of trade east-west and north-south, the planets are aligned to make 2014 a vintage year in British-Irish relations.
For Jane and me, being here in the Crown Moran hotel, as the guests of the London County Board of the GAA, is another bright light in this glittering firmament and another sign of the modern friendly and respectful British-Irish relationship, which is serving our countries and our peoples so well.
You have been very kind to welcome us to your annual gala dinner. In return, we wish the GAA in London every success on and off the field in 2014.
Thank you very much.
Published 17 February 2014