World news story
British Ambassador gave an interview to Adevarul newspaper.
HM Ambassador to the Republic of Moldova, Mr. Phil Batson gave his first newspaper interview to Adevarul.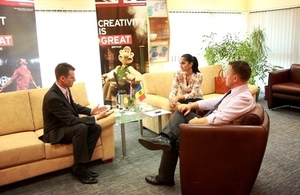 In his interview to Adevarul (Rom. lang.), Phil Batson spoke with their correspondent, Virginia Dumitras about British Embassy Chisinau priorities, UK and Moldova bilateral relations, European integration, political situation in Moldova, corruption issues and conflict settlement.
Virginia Dumitras: What are the priorities during your mission in Moldova.
Phil Batson: My priorities are to continue to support Moldova's EU integration aspirations; increase bilateral trade; support efforts to find a solution to the Transnistrian conflict and to pursue other priority issues for the UK such as climate security, energy efficiency and cyber crime.
V.D: How did London see the cituation in Moldova during recent events i.e. political crisis, new governing coalition.
Ph. B: The crisis was of course a concern. But the new coalition led by Mr Leanca seems to be working in a collaborative and serious way. We hope this will allow Moldova to stay on track with its European aspirations and it goes without saying that we support its efforts to tackle corruption.
V.D: The Moldovan authorities want a clear perspective for EU integration. What are our chances in your opinion?
Ph.B: The priority must be to implement the reforms that come with the Association Agreement and the Deep and Comprehensive Free Trade Agreement. This will take time. And the changes must be real, not skin deep. Then I think the EU will be better placed to give Moldova a clearer perspective on integration.
V.D: What should the government do to convince the 28 member states that we deserve this perspective? Which are the problematic areas and how could we improve the situation?
Ph. B: As I said, let's start by implementing the reforms. Problematic areas include, as we have seen earlier this year, the judiciary, corruption and political interference in the State institutions. It is up to all areas of Moldovan society to work together to improve the situation. This will take time and a sustained commitment to promoting the values of tolerance of others; rooting out corruption which will in turn help create a stable and transparent business environment; promoting respect for others; and making politicians and public officials more accountable for their actions.
V.D: How can we make politicians more responsible?
Ph. B: You can promote people who speak out against corruption, or act against corrupt practices showing that it is the right behavior. So that you generate a climate of encouragement. Also press has a huge role to play and also citizens should hold the people who they elect in councils to their account. Local democracy is really important.
V.D: It's often being mentioned that in order to be able to join the EU, we need not only concrete reforms but a change of mentality. What exactly is meant by this?
Ph. B: You are probably referring to the "Copenhagen criteria" – the EU membership values that were articulated at the European Council in Copenhagen in 1993. These are around democracy, Rule of Law, human rights, respect for and protection of minorities as well as economic and legislative criteria. But I think it goes wider than this – it's about changing behaviours within society. And I applaud the stands taken by a few Moldovan Ministers who speak out publicly against corruption within their own ministries and the need to change the culture in society whereby individuals seek to cheat the system for their own ends. We need more people like them. It would also have a financial benefit to the country as it a more transparent business environment would encourage more foreign investors creating more jobs, more tax revenue and reduce the social problems linked to people having to leave the country in order to feed their families. People need to trust the institutions. Public officials need to win that trust by being honest and transparent. The actions by the ministry of educations were really laudable. If they cheat the system, I don't see why they should be complaining. UK is one of the least corrupt places in the world. It's not perfect, but I think in the UK people have a sense of fairness and the system works, it's very difficult to cheat the system. You can't bribe officials. But also in UK the public officials are paid much better. They are not paid huge wages, but doctors, nurses are well paid.
V.D: During your predecessor's term, the United Kingdom was involved in a series of initiatives related to peace building measures between the two banks. What is your agenda on the Transnistrian conflict resolution.
Ph. B: Keith Shannon led some ground-breaking work on confidence building measures (for example, taking politicians and civil society representatives from both banks of the Nistru to Northern Ireland).
He also pioneered a training programme "Take Off" for young leaders from around the country. Last week the Embassy ran its third Summer School for Young Leaders. We brought together 24 young political and civic activists from across the Republic of Moldova, including the Transnistrian region and Gagauzia. They received training in debating, problem solving and project development. But the programme's essence is to bring together communities from both sides of the Nistru to reduce the communication gap, meet and learn about each other and their communities, and potentially to develop joint projects. We will continue to run such activities. Also in September we will run another project Ambassadors for peace football project where we bring together around 100 kids from around the country to break down barriers and to show them that there is more that unifies them than divides.
V.D: Are these projects efficient?
Ph. B: It's true that it's an investment from the future because we won't get immediate results. But how will we ever going to change anything if we don't change the views of the children, or the young leaders. It's an investment in the future.
V.D: We very often hear that businessmen leave the Republic of Moldova. Do you think Moldova is attractive businesswise today for British investors, and what are the problems that they (may) face?
Ph. B: I think there are opportunities here and the UK is well placed in the ICT sector with Endava, Computaris and Amdaris. And Barbour – a high-end British clothes brand is here. So why can't others follow? I think it's more that UK investors are not yet aware of the opportunities here. I hope to do something about that over the next 3 years. But it's important that the Moldovan Government does not see foreign companies as a fiscal cash-cow – this will only drive them away. Instead, the Government should improve the effectiveness of domestic tax collection first.
V.D: Your predecessor was passionate of sports. What are your hobbies?
Ph. B: Like Keith I enjoy playing most sports, including football. In the UK I'm also a keen gardener which is very therapeutic and gives you time to reflect.
V.D: Do you have a message for those who would like to get a visa to attend the England – Moldova match in September?
Ph. B: Yes, get your visa now! And certainly by 9 August! UK visas in the Republic of Moldova are issued in Warsaw. So you have to factor in up to 3 weeks between your application and receipt of passport and visa.
V.D: The United Kingdom is known as one of the most Euro-sceptic countries of the EU and there were even ideas of a membership referendum in the context of the crisis in Greece. Would the UK eventually vote for the EU – Moldova visa regime abolishment?
Ph. B: I think it's premature to speculate on something i.e. Visa Liberalisation that is not yet in place.
V.D: How welcome are the Moldovans who live in UK, how many of them live there on permanent basis?
Ph. B: Despite the impression given by some elements of the UK media, I think British people are very hospitable. The UK is a multi-cultural and very diverse country where tolerance of others is well-embedded. I don't know how many Moldovans live permanently in the UK - you need to ask my Moldovan counterpart, Iulian Fruntasu, that question - but we welcome the skills and knowledge that they bring to the UK.
V.D: What did you know about the Republic of Moldova before your arrival to Chisinau, and what have you managed to see since you are here?
Ph. B: I knew it was famous for its good wine and that one British man, Tony Hawks, had been "Playing the Moldovans at Tennis"!
I haven't seen as much as I would have liked, but I have been to Balti and Chirosu in the north, Ialoveni and Tantareni south of Chisinau and Purcari and Tiraspol to the east. Next week I'm visiting two British faith-based summer schools in the villages of Sarata-Razesi (near Leova) and Holercani (near Criuleni).
V.D: The birth of the royal baby is an important moment in UK, but how important is for the rest of the world?
Ph. B: It's very exciting at two levels. It's exciting for the royal family, I know how exciting that is, but also for the nation. A future king is been born. Lots of people around the world are very excited by this, they are fascinated by British royal family and it's good for Great Britain.
Published 13 August 2013
Last updated 13 August 2013
+ show all updates
Added translation
First published.