World news story
British Ambassador encourages Guatemalan girls to never give up on their education
The British Ambassador to Guatemala, Carolyn Davidson, visited a group of more than 100 girls who have committed in the past two years to stay in school and build a better future for themselves.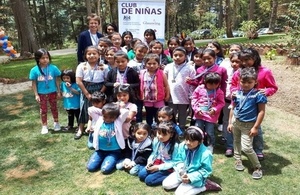 The British Embassy's project "Girls Club" comes to an end this month after helping these girls, who traditionally struggle to stay away from violence and gangs. The aim of the project is to help them set personal goals and have a better vision for their future.
The girls come from Zone 13 of Guatemala City and the "Tierra Blanca" community in the Municipality of Mixco. Through a series of educational and recreational workshops which encouraged sharing life experiences, the girls gained motivation to set objectives and achieve specific goals.
During the event, the girls shared their experiences, unveiled some of their future plans and committed to stay in touch with each other in order to keep alive the spirit of empowerment they inherited from the project. The girls and the project implementers also thanked Ambassador Davidson for the British Embassy's support over the past two years.
The project, launched in 2016, was implemented by the Municipalities of Guatemala City and Mixco, together with Glasswing International, a global organisation that addresses the root causes of poverty and violence through education, health and community empowerment.
The British Government has committed to a foreign and development policy that consciously and consistently delivers for women and girls around the world. The funding from the UK amounted to Q 800,000 for this project.
To mark her visit to the project, the British Ambassador to Guatemala, Carolyn Davidson, said:
I was impressed by the determination of these girls to achieve their goals and not to give in to violence and fear. Educating girls and women is especially effective because when we educate girls, the benefits are felt throughout the whole community. I encourage these girls to never give up on their education and their dreams.
Published 20 March 2018