World news story
British Ambassador Edward Oakden visits Zarqa Governorate
During the visit, Ambassador Oakden called on the Governor, Dr. Raed Edwan and Head of the municipality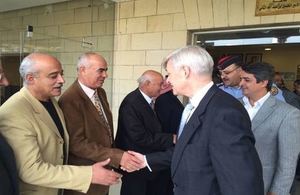 On 16 December, British Ambassador Edward Oakden visited Zarqa governorate. During the visit, Ambassador Oakden called on the Governor, Dr. Raed Edwan, Head of the municipality and other representatives from the municipality. The Governor gave an overview of the situation of Zarqa and highlighted the needs and challenges faced by residents daily basis. The discussion focused on the need for job creation, developing a safe industrial zone away from the city and the importance of education.
Representatives from the World Bank also gave a briefing on the UK supported project on the Jordan Emergency Services and Social Resilience Project (JESSRP). The JESSRP is a trust-fund with a number of donor contributors. The UK has contributed nearly £18m since the start of the project in 2013, making the UK the largest contributor to the trust-fund. This year JESSRP has worked in 16 municipalities – with a total population of over 1.5 million, of which 220,830 are registered Syrian refugees – to provide essential municipal services such as waste management, public lighting, rehabilitation of roads and public spaces.
Ambassador Oakden also met local MP Mohammad Al-Hjouj and other representatives from the local community and camps in Zarqa. The MP highlighted the challenges in education, unemployment and his Governorates efforts in preventing radicalisation through social and vocational activities. MP Hjouj also spoke about the impact of the regional situation, and the Palestinian issue as a top priority.
Speaking after the visit, Ambassador Edward Oakden said: "As part of our partnership to sustain Jordan's resilience, we are keen to understand how best to help create jobs and improve educational facilities in this city, Zarqa, which plays an important role in Jordan's national life."
Published 18 December 2015