World news story
British Ambassador champions free trade at university forum
On 25 August, the British Ambassador to Guatemala, Thomas Carter, delivered a presentation to almost 100 students from the Economics Faculty of the Universidad Francisco Marroquin (UFM).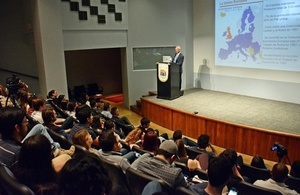 The Ambassador set out the opportunities for the global economy once the UK leaves the EU. The presentation was followed by a further presentation and discussion over lunch with academic staff. Both events triggered a high level of interest and well-informed questions.
In a presentation entitled 'The implications of the UK's exit from the EU' Ambassador Carter called for further liberalisation of trade and services, and for a rejection of protectionism. He also emphasised that with an independent trade policy the UK would be able to boost free trade thus bringing associated benefits to other countries such as Guatemala.
Research by the Organisation for Economic Co-operation and Development (OECD) shows that a 10% increase in economic openness boosts production per capita by almost 4%. Worryingly, the OECD also states that protectionist measures worldwide have grown since the financial crisis of 2008.
During his presentation Ambassador Carter highlighted the UK's commitment as a promoter of social and political stability. He stated that wherever there is economic interdependence between countries there is less chance of conflict.
Ambassador Carter also stressed the fact that the UK wants the closest possible relationship with its European neighbours, with no interruption of the trading relationship. This will provide the most stable platform for those companies from other countries who use Britain as an access point to Europe.
Finally, Ambassador Carter made the case for a future Free Trade Agreement (FTA) between the UK and Guatemala. The trade volume between Guatemala and Britain is currently around US$200 million a year and this could increase still further through further liberalisation of tariffs, by using the current EU commercial agreement as a starting point for negotiations.
Published 29 August 2017