World news story
British alumni attend reception in Santiago
Catching up with old friends and new: British alumni invited to British ambassador's residence to meet their alma mater.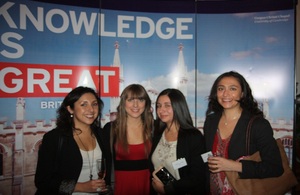 On Saturday 4 May over 130 Chilean alumni of British universities, including Chevening scholars, attended a reception at the British ambassador's residence, allowing them to catch up with old friends and make some new ones!
The event coincided with the Europosgrados education fair – Chile's largest postgraduate fair. The UK was the best represented nation at the fair, with 18 British universities in attendance. 15 of the universities attended the reception at the Ambassador's residence, allowing them to keep up their already strong links with Chilean alumni.
On the occasion of the reception, Jon Benjamin, British Ambassador to Chile said:
Five of the 20 best universities in the world are in the UK and Cambridge University has been named number one in the world by QS rankings. That's why education is a key pillar of our GREAT campaign, which explains what the UK has to offer. I'm pleased that so many Chilean students are taking advantage of the opportunity of studying in the UK – we'd like to encourage future students to keep thinking UK, and will continue providing opportunities for students who have returned from the UK to keep in touch with us and each other.
If you want to know more about the embassy, please visit:
Published 7 May 2013