Press release
British Airway's A380 delivery a 'proud moment' for Welsh engineering
Secretary of State for Wales, David Jones has hailed the delivery of Airbus' flagship A380 to British Airways as a proud moment for Welsh engineering.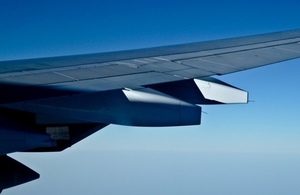 British Airways (BA) has become the first UK operator of the Airbus A380 after taking delivery of the first of the 12 aircraft it has on order. The flagship aircraft – with wings made in Airbus' North Wales Factory in Broughton, will fly on routes from London Heathrow to Los Angeles and Hong Kong.
The news comes just weeks after the milestone maiden flight of Airbus' new A350 XWB aircraft, and a successful display to the Paris International Airshow where the company took orders and commitment to ordering aircraft to over £40billion. The orders will strengthen the busy order book of the Broughton wing factory and secures the jobs of the 6,000 strong employee roster.
During his recent visit to the Paris Air Show, the Secretary of State for Wales took the opportunity to visit the Airbus stand, and today welcomed the news that the largest passenger aircraft on the market has been delivered to an UK operator.
Secretary of State for Wales, David Jones said:
To see the flagship Airbus A380 in BA livery is a proud moment for everyone in the aerospace industry in Wales – none more so for those employees in North Wales who manufactured the 'made in Wales' wings that will fly thousands of people around the world every year.
Aerospace is one of our most important manufacturing industries, with Britain leading the way in Europe. The standard of British engineering ingenuity that has gone into the development of this, and all other aircraft in the Airbus roster, is testament to the talent and skills that we have in our aviation workforce.
NOTES TO EDITORS:
*Airbus currently has 262 firm orders for the A380, from 20 customers. Aside from its 12 firm orders, British Airways also has options for a further seven aircraft.
*All BA's A380s will be powered by Derby-built Rolls-Royce Trent 900 engines. An A380 with Rolls-Royce engines is around 40 per cent British made, with around 20 per cent of the airframe alone being manufactured in the UK.
*There are some 1,200 UK staff working directly on design and manufacturing the A380 at Filton and Broughton, with a further supply chain of 400 companies across the UK.
To be attributed to UggBoyUggGirl on Flickr
Published 4 July 2013