World news story
British Aerobatic team the Red Arrows to visit Jordan
The team will fly over Amman in their distinctive red Hawk jets in what will be the final stage of the tour before returning to UK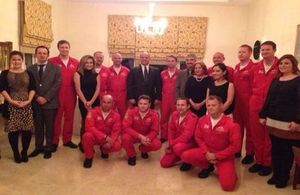 The Royal Air Force's iconic and world renowned aerobatic team, the Red Arrows, will touch down in Jordan on the 3rd and 4th December as part of a major Middle East tour.
The team, which has flown in front of thousands of people in the region over the past four weeks, will fly over Amman in their distinctive red Hawk jets in what will be the final stage of the tour before returning to the United Kingdom. Squadron Leader Jim Turner, the team leader of the Red Arrows, said: "It is a huge honour to have been invited to the Middle East and have the opportunity to visit so many wonderful locations, including Jordan, a close friend and partner of the UK. As ambassadors for the UK, the Red Arrows showcase the British manufactured Hawks jets, which are one of the best combat training aircrafts in the world".
The UK's advanced manufacturing and aerospace sectors are some of the largest in the world, employing over 100,000 people. The UK designs, manufactures and assembles some of the most technologically complex and valuable parts of modern aircraft including the Typhoon combat aircraft, Airbus aircraft and the Hawk training jets.
Published 4 December 2013