World news story
Britain's Royal Air Force Red Arrows Perform in Malaysia
The Red Arrows dazzles Malaysians with a flypast over the PETRONAS Twin Towers and aerobatic display at Epsom College.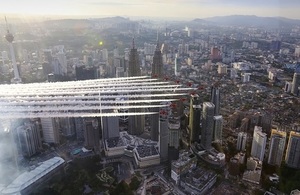 The Red Arrows, Britain's Royal Air Force Aerobatic Team performed an aerobatic display over the grounds of Epsom College today,17 October . Much to the delight of the crowd, the team, flying in BAE Systems Hawk T1 aircraft, delivered breathtaking manoeuvres such as the 'Wall' and 'Tornado'.
The aerobatic display viewing event is part of the Red Arrows' engagement in Malaysia involving Malaysian government officials, members of the Malaysian Armed Forces, business leaders and schools.
The world's premier aerobatic display team are currently on a tour of 20 locations in the Middle East and Asia Pacific to showcase Britain's precision and technical expertise, as well as the best of the British innovation and industry. It also supports Britain's GREAT campaigns around the world.
British High Commissioner to Malaysia H.E. Vicki Treadell CMG MVO, said: " I am delighted that the Red Arrows are returning to Malaysia. Their deployment is a great example of how Britain is engaging with the world. Their arrival coincides with the launch of our forthcoming GREAT Britain Festival in Malaysia and celebrates the long-standing friendship between Malaysia and Britain."
Wing commander Martin Higgins, Officer Commanding Royal Air Force Aerobatic Team, said: " We are thrilled to be here and to have had the opportunity to display today. The Red Arrows were here in 2007 and 2003, their return in 2016 is testament to the importance of the United Kingdom-Malaysia relationship for the team, the Royal Air Force and Her Majesty's Armed Forces."
In conjunction with Britain's Education is GREAT campaign in Malaysia, the Red Arrows team also attended a series of on-ground engagements with schools and higher education establishments to promote the UK's Science, Technology, Engineering and Maths programme.
Published 18 October 2016