Press release
Britain's beefy builders say bye bye to baring bottoms
A constructive shift for the image of builders.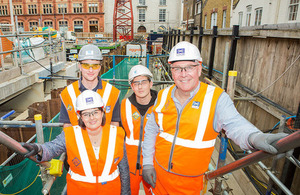 Britain's builders are being urged to get into shape in a new health push today as Public Health Minister Jane Ellison launches the Responsibility Deal Construction Pledge with Britain's favourite builder Tommy Walsh.
The image of the bottom baring, overweight builder is being replaced by workers who are hands-on well-oiled machines who operate building sites up and down the country. To build on this, today's new pledge outlines how the construction industry will further help its workforce to lead healthier lives.
There is a range of actions that firms can take – such as regular health checks, stop-smoking clubs and healthier staff canteens.
Public Health Minister Jane Ellison said:
The construction industry is a vital part of the UK economy and it is important we do all that we can to sustain a healthy workforce.

Builders often work in difficult and demanding environments and we must support them to ensure their health is not put at risk.

It's great that so many firms are making the health of their staff a priority on their sites.
Almost two million working days were lost due to sickness on construction sites across Britain last year so the industry has come together with the Department of Health to tackle the issue head on.
34 companies, including 11 small firms, have already signed up to encourage their staff to adopt healthier lifestyles and have promised to improve the way in which they take care of the health and wellbeing of their workers.
Britain's favourite builder, Tommy Walsh said:
As a builder I've seen attitudes towards health in the trade massively improve since I first picked up a trowel. Today's builders are just as likely to go down to the gym as they are to go to the pub after work.

But there's loads more that workers and their companies can do, so I want every construction firm in Britain to sign up to the pledge and promise to do their bit to make building sites healthier places to work.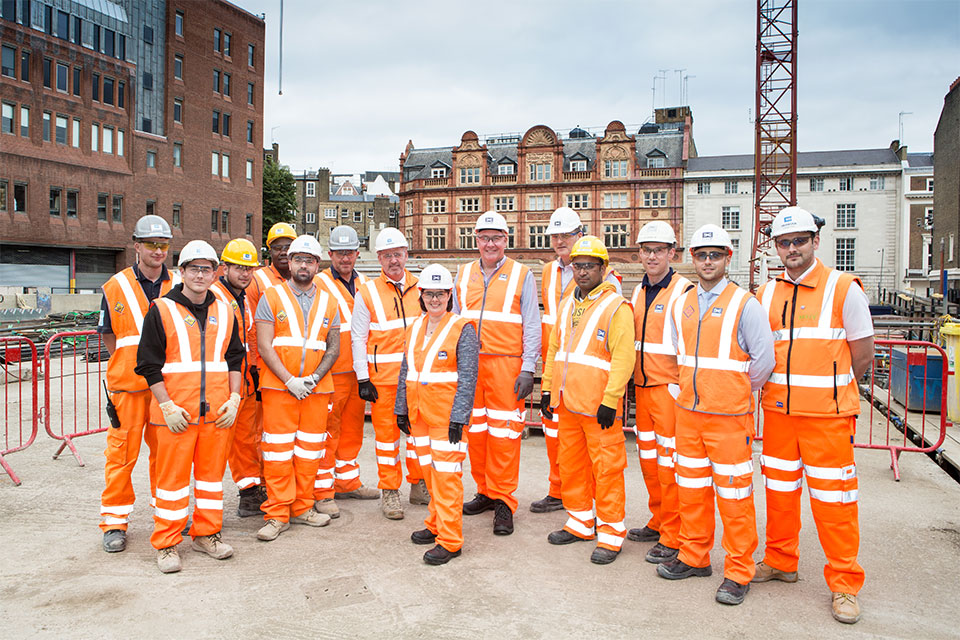 Crossrail's Health & Safety Director, Steve Hails said:
Construction is a major UK industry but has a higher prevalence of poor health and wellbeing compared to other sectors.

It's great that this pledge has been developed by the industry working in partnership with Government. It will build upon the need to address the risks of workplace ill health and help to drive real improvements in identifying health and wellbeing issues earlier as well as getting construction workers and staff in better shape.
Chair of the Responsibility Deal Health at Work network, Dame Carol Black said:
Two million people work in the UK construction industry, 6% of the entire workforce. Their health and wellbeing is crucial to our economy as well as to themselves and their families. Some of them face particular and well known workplace hazards against which there are strict safeguards. But the conditions of work and associated lifestyles also mean that many construction workers do not have ready access to the kind of general support to promote better health that is available to other working people.

This has been recognised by many companies and a number have taken exemplary action not only to minimise known risks but also to protect and promote better health generally and at the same time play their part in improving public health. Construction companies that are household names have developed health and well-being programmes for all the workers on site, whether contracted from other firms or their own staff.

Many leading companies have also made a public declaration of their commitment by signing up to a new shared pledge under the Responsibility Deal. I hope they will be followed by many more.
Background information
The Public Health Responsibility Deal aims to tap into the potential for businesses and other influential organisations to make a significant contribution to improving public health by helping us to create this environment.
There are currently 9 Health at Work Network collective pledges – these are the things that companies can do to help their builders stay healthy:
Healthier staff restaurants – England has one of the highest rates of obesity in the developed world. Being obese and overweight increases the risk of heart disease, type 2 diabetes and certain cancers. Also a diet high in salt can lead to high blood pressure, which is a major risk factor for heart disease and stroke. Tackling obesity and diet related ill-health is crucial for the productivity and prosperity of businesses and the wider economy.

Smoking cessation/respiratory health – Smoking can increase the risk of heart disease, strokes and cancer - the workplace is an ideal setting for communicating messages and advice about quitting.

Staff health checks – By encouraging staff to make use of freely available health check tools, employers can help their employees and their families to improve their health and live well for longer.

Mental Health Adjustments – The guides are intended to help employers think through the kinds of adjustments at work which they can make for people with mental health conditions. They include practical advice and links to other resources which might help them to support job retention and return to work. From October 10th this will be broadened to include promoting wellbeing and resilience and addressing stigma and line manager training.

Chronic conditions guides – The chronic condition guides recommend a common-sense approach to managing long-term medical conditions that will help to keep people in work and get those on long-term sickness absence back into work.

Occupational health standards – The occupational health standards represent the minimum that would be expected from an effective occupational health service and can help organisations to improve the current and future health of their workforce.

Health and wellbeing reports – Annual reporting on employee health and wellbeing will help organisations to identify problem areas early and take remedial action where necessary.

Young People – The workplace is an ideal setting for communicating messages about health and wellbeing. By introducing young workers to the benefits of a healthy lifestyle, they are more likely to maintain these behaviours throughout their working life and beyond, passing this knowledge on to future co-workers, friends and family.

Domestic Violence – 1 in 4 women and 1 in 6 men are affected by domestic violence during their adult lives. Every workplace up and down the country is therefore touched by this issue. The pledge brings this sensitive subject out in the open and commits employers to helping their staff feel safe and supported.
The companies signed up to the pledge at launch are:
AD Porta Ltd
Arup
Barratt Developments PLC
Capel CS Ltd
Cheema Services
Costain
Crossrail
DAM Structures
The Danny Sullivan Group Ltd
Dartmouth General Contractors Ltd
Duradiamond Healthcare
Ferrovial Agroman UK & Ireland Limited
Fortel Services Ltd
Health Kicks Wellbeing
ISG plc
J Coffey Rail
Kelly Formwork (UK) Ltd
Kilnbridge Construction Services Ltd
Kim Barker Construction
Lend Lease
London Legacy Development Corporation
Mace Ltd
Network Rail
Park Health & Safety
Re-Gen (UK) Construction Ltd
Skanska UK Plc
Thames Tideway Tunnels
Thames Water Utilities Ltd
TG Tunnelling Lts
VINCI Construction UK
VGC Group
VolkerWessels UK
Wates
WJ Groundwater Ltd
Published 10 October 2013