Britain to provide life-saving contraception in Uganda
Britain will provide urgently needed contraceptive supplies to Uganda to help prevent unwanted pregnancies and improve family planning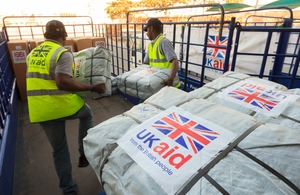 Britain will provide urgently needed contraceptive supplies to Uganda to help prevent unwanted pregnancies and improve family planning, DFID Secretary of State Andrew Mitchell said today.
The new UK support will help to bolster Uganda's contraceptive supplies and could avert 75,000 abortions and 250,000 unwanted pregnancies.  Ugandan women have a one in twenty-five risk of dying in pregnancy or childbirth.
Andrew Mitchell said:
Around the world over 200 million women still do not have access to modern contraception. We are determined to give women more control over their lives so they can decide when and how many children they have.  This is a crucial step in helping countries out of poverty and will be a major priority for us.

Ending non priority spending and taking tough steps to get value for money in DFID's budget means we can concentrate our aid where it makes most difference - on improving the lives of the world's poorest people.
This commitment of additional support for frontline services in Uganda follows Monday's announcement by Andrew Mitchell to refocus aid spending on projects that deliver maximum value for money and have the greatest impact on global poverty.
Just one in four women across Uganda currently have access to contraceptives and stock levels are running low due to a recent upsurge in use.
Andrew Mitchell has sent Parliamentary Under-Secretary of State Stephen O'Brien to Uganda on a fact-finding mission where he will see for himself the impact of DFID's aid.
Published 20 May 2010