World news story
Britain to give over $120 million to back Lebanese stability
The UK is delivering a five-point stability package, says British Ambassador Tom Fletcher after meeting President Sleiman and Speaker Berri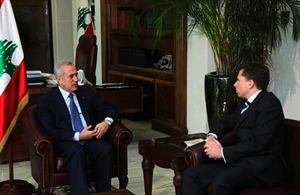 Ambassador Fletcher called on Lebanese President Gen. Michel Sleiman and Speaker of Parliament Nabih Berri to set out a new package of practical UK support to Lebanon's stability. Speaking after his meetings, he said:
"Prime Minister Cameron has instructed us to deliver a five-point stability package, which I discussed with the President and Speaker. Britain will back Lebanon with actions, not just words.
First, the UK will deliver an additional $15 million to equip the Army to protect Lebanon's borders. Following the meeting between our two Army Commanders on 5 July, we are trebling our funding for the Army's five-year development plan. The Army needs the support to match its courage.
Second, we will provide increased help to Lebanon's response to the largest refugee influx anywhere in the world. Our Secretary of State for International Development visited last week to agree $75 million of new funding, much of it for Lebanese communities, bringing total UK funding to $107 million, in addition to our significant contribution through the EU.
Third, we will redouble our effort in support of the politics of consensus, courage and coexistence. We back efforts to form a neutral government, and a state that better delivers security, justice and opportunity. We will continue to encourage a bolder vision of a future based on Lebanon's national interest.
Fourth, we will work with international partners to keep Lebanon out of the Syria conflict. The UN Security Council issued last week a powerful statement of support for Lebanon's sovereignty and neutrality. We will back efforts to establish a stronger international consensus that Lebanon should not be an arena for other people's wars.
Fifth, we will increase trade between two of history's greatest trading nations. Despite the tough context, UK-Lebanon business is up by a third on last year, generating jobs and growth here and in Britain. We will work hard to maintain this trajectory, showing that Lebanon remains open for business.
The regional context is getting tougher, so we must all work harder. As the United Kingdom, we stand with those who will give a united Lebanon the best chance of weathering the storm".
Published 16 July 2013
Last updated 16 July 2013
+ show all updates
added Arabic translation
First published.