News story
Britain to be the best place in the world to do science
In a speech at Policy Exchange, Universities and Science Minister David Willetts will argue that our greatest national assets - our universities…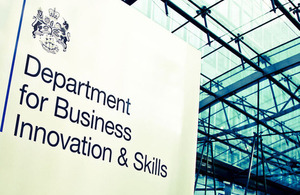 In a speech at Policy Exchange, Universities and Science Minister David Willetts will argue that our greatest national assets - our universities, our science facilities and researchers - are the best single hope for making our way in the high-tech world of the future, creating jobs and opportunities and boosting high tech economic growth.
He will say that "If properly nurtured they can ensure that Britain will be up there as a leading location for research in the physical and life sciences and beyond. Britain can be the preferred location for companies' R&D. We can have world-class industries using cutting-edge technologies. We can have a prosperous future with a role in the world."
The UK already has some of the world's best universities and most productive research communities but to help Britain become the best place in the world for science and research David Willetts will announce:
An invitation for proposals for a new type of university with a focus on science and technology and on postgraduates. There will be no additional Government funding.
The creation of a new Catapult centre in satellite applications, providing businesses with access to orbit test facilities, to develop and demonstrate new technologies.
Setting up Leadership Councils in E-Infrastructure and in Synthetic Biology bringing together key players to drive forward private investment and innovation.
An ambition for universities funding from external sources to grow by 10% over the next three years.
An aim to get more universities into the top 100 in the world.
David Willetts will set out his ambitions for a high-tech strategy:
"Globalisation is still at its early stages when it comes to Higher Education. The next round of new institutions may well link existing British universities with international partners. The surge in international investment in science and technology would make this a key part of the mission of a new foundation. It might be that today's institutions propose a new campus or a new international partnership. Or it might be new providers wanting to enter with different models. Today I can announce therefore that the Coalition is inviting proposals for a new type of university with a focus on science and technology and on postgraduates. Local economic partnerships, universities, businesses and international partners can come together to put forward proposals for new institutions.
"There will be no additional Government funding. This time we will be looking to private finance and perhaps sponsorship from some of the businesses that are keen to recruit more British graduates. For example, we will not be diverting funding from support for undergraduate students. It is an opportunity to seize the new freedoms which we proposed in our White Paper last year. We already have a lot of interest and we want to move this to the next level. As proposals are developed we will be able to identify any specific obstacles that need to be removed including by legislation where necessary. A major city might wish to offer a site as Mayor Bloomberg has just done so successfully with his competition for a new graduate school in New York. We will be discussing with the interested organisations how best to carry this initiative forward. I am confident that with ingenuity we can grow our research base and our universities even when times are tough."
He will conclude:
"The critics of our economic policies focus on arguments about a short-term stimulus but what really matters is long term growth. That is what our high tech enterprise strategy is all about. Times like this have persuaded many of us that it is necessary to back the technologies of the future so that we can rebalance our economy. Every Government tries to do it. The only question is whether you recognise it and do it properly or whether you just let it happen as the aggregate of the host of decisions you have to take anyway. This Coalition, faced with the crucial challenge of sustaining growth after the deepest recession since the War, has a strategy for high tech enterprise. We can be proud of it because it is coherent, serious and rests on a commitment to the future of our country and its economic base."
Notes to editors: **
Despite enormous pressure on public spending, the £4.6bn per annum funding for science and research programmes has been protected in cash terms and ring fenced against future pressures during the four years of the spending review period. We announced almost £610 million of additional capital investment in science in 2011;
The UK is a world leading research base. UK scientists have been awarded over 70 Nobel Prizes for their scientific achievements. Four of the world's top ten universities for clinical, pre-clinical and health subjects are in the UK: Oxford (ranked 1), Imperial College (ranked 3), Cambridge (ranked 4) and University College London (ranked 7) (Times Higher Education World University Rankings 2011/2012).
The UK produces the highest number of science, mathematics and computing graduates annually in the EU.
The UK is the leading country in the G8 for research productivity. It produces more publications and citations per researcher and per pound of public funding than any of its major competitors
The UK is responsible for 8 per cent of world publications and has a global share of the most cited papers of 14 per cent.
A copy of the Foresight Technology and Innovation Futures report can be found at http://www.bis.gov.uk/assets/bispartners/foresight/docs/general-publications/10-1252-technology-and-innovation-futures.pdf
BIS's online newsroom contains the latest press notices, speeches, as well as video and images for download. It also features an up to date list of BIS press office contacts. See [http://www.bis.gov.uk/newsroom](http://www.bis.gov.uk/newsroom) for more information.
Notes to Editors
Contact Information
Name BIS Press Office Job Title
Division COI Phone
Fax
Mobile
Email NDS.BIS@coi.gsi.gov.uk
Name Emma Griffiths Job Title
Division Department for Business, Innovation and Skills Phone 020 7215 5982 Fax
Mobile
Published 4 January 2012