Britain's newest Ambassador builds UK-China ties
David Beckham is the first foreign sporting figure to become an official ambassador for football in China.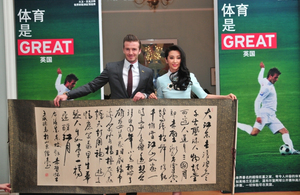 On 24 March, David Beckham concluded his first visit to China in his new role as Ambassador for youth football and the Chinese Super League at a reception hosted by the other British Ambassador in China, Sebastian Wood. Also in attendance at the reception was film actress Li Bing Bing as well as Minister of Culture, Cai Wu. The event was the final act in a tour that has taken the former England international footballer to Beijing, Qingdao and Wuhan.
David Beckham and Li Bing Bing have both endorsed the UK's GREAT Britain campaign. The campaign aims to show the world the best that Britain has to offer in subjects from education and innovation to culture and tourism. David Beckham offered the campaign a specially-commissioned image from his international career to illustrate the UK's proud sporting tradition. Li Bing Bing was awarded the title of GREAT goodwill ambassador to China for her longstanding connection to the UK, including as a torchbearer at the London 2012 Olympics.
David Beckham is the first foreign sporting figure to become an official ambassador for football in China. The role represents a long-term agreement with the Chinese football authorities that will see him return to China later this year.
This month's visit is arguably the most high-profile example of the increasing number of people-to-people exchanges between the UK and China. In 2012, over 286,000 UK visas were issued to Chinese applicants, up 24% on the previous year.
David Beckham said:
I have hugely enjoyed my visit to China. It has been a real privilege to meet and spend time with young players and fans in the cities I have visited. I hope that my time here will encourage more aspiring players here to take up the sport and achieve their dreams.
British Ambassador Sebastian Wood said:
I'm delighted that David Beckham has visited China. He is a true ambassador for his sport and for the UK. He is an inspiration to football fans in China and around the world. His visit is a wonderful example of the deep connection between China and the UK.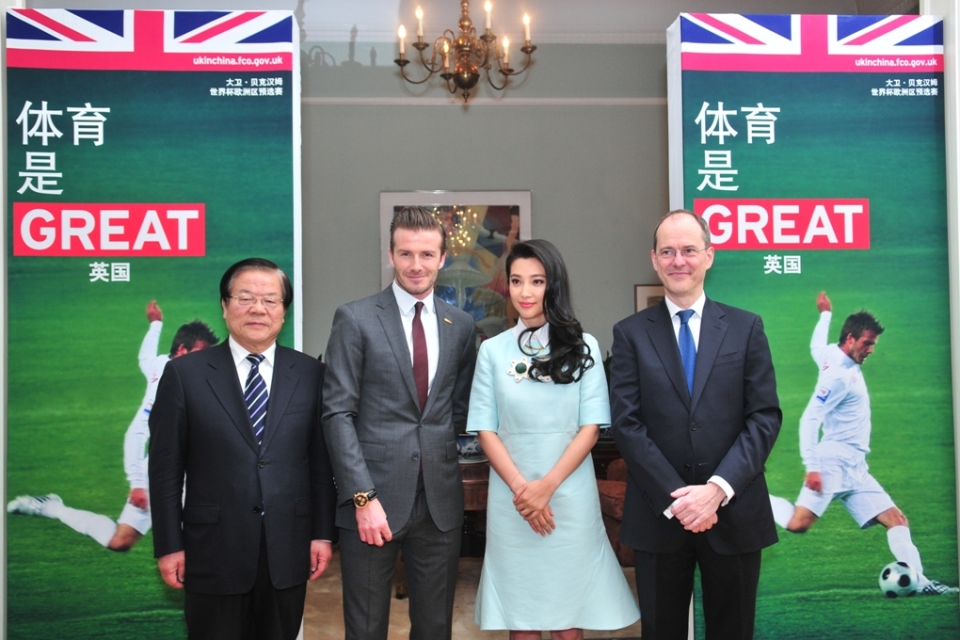 Published 25 March 2013