World news story
Britain represented at international defence exhibition MAST Asia 2015
UK pavilion displays latest British technologies at first international defence trade exhibition in Japan.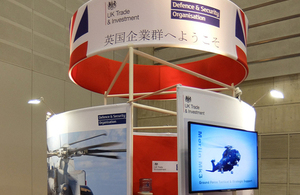 Japan hosted its first international defence trade exhibition at Pacifico Convention Plaza in Yokohama from 13 to15 May 2015.
Brigadier Richard Spencer, representing the Royal Navy speaking to an audience at the exhibition said,
We are looking forward to our interoperability with Japan in policy, technology, and operations in order to promote stability in an uncertain world.
UK pavilion at MAST Asia 2015
The UK pavilion at MAST Asia 2015 showcased the latest British defence and security capability, technology and equipment with 15 UK companies in attendance. They were supported by UK Trade and Investment Defence and Security Organisation (UKTI DSO).
The UK pavilion was also attended by other representatives from the British government, including the Ministry of Defence (MOD) and industry. This provided additional opportunities for exchanges with counterparts from Japan and around the world.
UK expertise on display included:
helicopters
maritime engineering services
maritime engines
UK defence and security sector
UK success in the defence and security sector internationally demonstrates an ability to develop and supply highly capable equipment at competitive prices.
Over the years UK companies have maintained a strong record of successful partnerships and joint ventures with overseas companies. Inherent in this success has been a willingness to share ideas and transfer technology.
Brigadier Richard Spencer said,
The UK's defence and security industry remain at the forefront of research, design, manufacture and support.
Brigadier Richard Spencer went on to say,
It's an exciting time to be involved in the defence industrial relationship with Japan.

We are excited because technology is moving at a breakneck speed and is being exploited just as quickly. We must invent just to remain relevant especially so in the maritime domain, so innovation is essential.

And as technology evolves so must we, or we risk being made rendered obsolete. We are evolving though a partnership which combines innovation from diverse industry technologies brought together through common values. For which our industry-to-industry relationship has identified over 30 projects where we could collaborate to mutually enhance our defence capabilities.

As Japan looks towards the future in its capacity as a proactive contributor to peace, the Royal Navy and the United Kingdom stand by to support of its responsible rise onto the world stage as an international security player.
Contact UKTI
Contact UKTI Japan for help to develop your business in Japan.
Related links:
Published 21 May 2015