Britain open for business
Henry Bellingham addressed ambassadors and economic attaches from London based embassies on Wednesday 23 June. His talk focused on Britain being 'Open for Business'.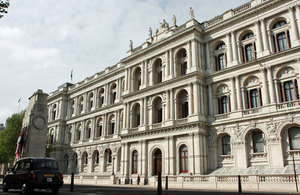 Henry Bellingham stressed that the UK Government wanted a 'dynamic foreign policy'. He emphasised how important bilateral trade was between the UK and other countries. The austerity measures in Tuesday's Budget highlighted that the FCO would have to work with less resources to achieve the Government's ambitious objectives.
He reiterated what the Chancellor had said in his Budget speech that the Government wanted to encourage economic growth by assisting business and would do that with measures such as reducing the corporation tax and limiting regulation.
Published 24 June 2010