News story
Britain calls for action to improve tax systems in developing countries
Development Secretary Justine Greening will push for more tax reform and better collaboration with business to help reduce global poverty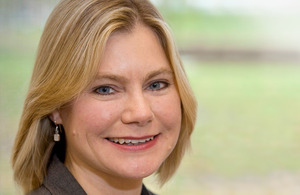 International Development Secretary Justine Greening will use a meeting of the Global Partnership for Effective Development Co-operation later this year to push for greater international action on tax and collaboration with the private sector on development.
Speaking from a meeting of Global Partnership representatives in Bali, Ms Greening announced that the meeting "Halfway from Busan to 2015", will see the efforts of the UK and more than 100 other Busan signatories assessed in several areas including:
aid transparency
focus on results
speed of aid disbursement and
work with the private sector and civil society
Co-Chair of the Global Partnership for Effective Development Co-operation Steering Group and International Development Secretary, Justine Greening, said:
"As well as helping developing countries build up their tax systems and a strong business environment, we're using every opportunity in this G8 year to push for international action on tax.
"We will use the meeting later this year to make sure countries have a firm deadline to get their own house in order."
It follows a speech Ms Greening gave to the London Stock Exchange in which she said that building up developing countries' tax base and private sector was central to ending aid dependency, and announced UK support to help countries develop strong tax systems.
She continued: "Agreeing to build an international consensus on taxation is a significant move. Economic growth is essential for sustainable poverty reduction. The Global Partnership is bringing us all together to help create strong and investable business environments in developing countries, which will in turn help countries build their own tax base. When this happens, countries are well placed to reap and then reinvest the gains."
The meeting will assess the Busan signatories against the commitments agreed at the 2011 Fourth High Level Forum on Aid Effectiveness in Busan.
The Global Partnerships for Effective Development Cooperation is building on the core commitments agreed at the Busan conference:
Aid based on results: to ensure development is delivering measurable impact
Greater transparency: so countries can plan, coordinate better and learn from each other; and citizens can hold governments to account for their decisions and their actions
Fragile states: signing up alongside donors as part of the New Deal to agree to better ways of working, tailored to the challenges of working in these countries
Cooperation with new aid donors: such as emerging powers like China, Brazil and India, who are increasingly influential providers of support and assistance to poorer countries and are key members of this partnership
To have developing nations at the heart of development priorities: implementing approaches that are tailored to specific solutions and needs.
The countries that signed up to Busan, including emerging economies, are helping other countries drive economic growth.
Published 23 March 2013